Upgrade XProtect Essential Customers to XProtect Express – for free
zondag, 4 september 2016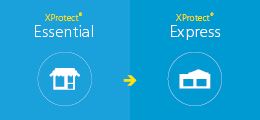 Auteur: Kimberly Sallingboe
Product News
We realize we have a loyal XProtect Essential customer base, and now that Essential will be our free product, we want to help these customers migrate to a system that can meet their current and future surveillance needs. For a limited time only, we're introducing a campaign that enables existing Essential customers to upgrade to XProtect® Express – for free. This is a fantastic opportunity for Essential customers to get a more advanced product at a significantly reduced cost, and to enable resellers to reconnect with their XProtect Essential install base.
Why customers should upgrade
Upgrading to XProtect Express offers customers a number of advantages:
Support for Milestone Interconnect™ - The new free version of XProtect Essential will not include support for Milestone Interconnect™. So upgrading to XProtect Express is a great way for customers with multiple locations to ensure that their remote sites can be connected to their XProtect® Corporate hub site.
Access to new functionality – Upgrading to XProtect Express will ensure that customers can take advantage of new product updates
System expansion – Since their current version of XProtect Essential will eventually be discontinued, customers who want to maintain the possibility of adding cameras to their system should migrate to XProtect Express
Support for third-party integrations – As the first level VMS that supports third-party integrations, XProtect Express enables customers to combine video with other business systems, such as access control or point of sale systems.
How to take advantage of the offer
For Essential customers without Care Plus, you can place the order using our order system, as usual. The system has been equipped to apply the campaign discount during the campaign period.
For Essential customers with a valid Care Plus agreement, you can upgrade the license in Customer Dashboard without any Milestone involvement.
Get an overview of existing XProtect Essential customers
Resellers can get a full overview of all their existing XProtect Essential customers in Customer Dashboard (formerly the Software Registration Site). They can also see which customers have valid Care Plus coverage. If resellers need assistance, they can always contact Milestone's partner and sales support team.
The fine print
There are a few things to keep in mind when deciding who should upgrade and when.
XProtect Essential 2014 will be discontinued on May 21, 2017. Add-on licenses and Care Plus for this VMS version will be available for purchase until that date.
XProtect Essential 2013 will be discontinued on October 7, 2016. Add-on licenses and Care Plus for this VMS version will be available for purchase until that date.
For more information on the discontinued stage of our product lifecycle, please visit our website.
Related downloads
Husky M20 Product Specification Sheet
Product Update Highlight Recording