Hoogtepunten Device Pack 2018
maandag, 30 april 2018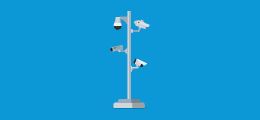 Auteur: Toyah Hunting
Product News
Als the open platform company doen wij onze uiterste best om ervoor te zorgen dat onze XProtect® software kan worden gebruikt met de breedste keuze aan apparaten. Jarenlang hebben wij tweemaandelijkse device packs met stuurprogramma's uitgegeven om gebruikers te helpen Milestone VMS te verbinden met andere apparaten. Vanaf dit jaar ondersteunen we 7.000 apparaten, dat is een record in de branche. Geen ander bedrijf ondersteunt zulke grote aantallen. We zijn trots op ons vermogen zo veel technologieën te ondersteunen en dat we ieder jaar zoveel nieuwe en ultramoderne apparaten bij onze community mogen verwelkomen.
Kijk welke apparaten we ondersteunen
Waarom valt de apparaatondersteuning van Milestone Systems op?
Onze Device Packs vallen op verschillende manier op. Ten eerste zijn ze onafhankelijk van het product. Dat betekent dat u niet hoeft te wachten op een Product Release om het stuurprogramma dat u nodig heeft, te krijgen. U kunt het op ieder gewenst moment vinden via onze Device Pack-pagina.
40% van onze stuurprogramma's zijn nu geïntegreerd via ONVIF, een open brancheplatform dat gestandaardiseerde interfaces voor effectieve interoperabiliteit van IP-gebaseerde fysieke veiligheidsproducten levert en promoot. In principe betekent dit dat als uw product ONVIF-compliant is, wij met u kunnen samenwerken en u met ons en met iedereen op onze open platform community.
Nieuwe startpagina voor hoogtepunten van Device Packs
Dit jaar hebben we een tool gelanceerd waardoor het nog gemakkelijker is zaken te doen en producten van Milestone te gebruiken. Stuurprogramma's werden tot nu toe tweemaandelijks geleverd via een Device Pack dat zwaar was om te downloaden en dat was inbegrepen in de XProtect VMS-installer. Om de downloadtijd te verlagen, hebben we het Device Pack in twee stukken verdeeld. Het eerste Device Pack bevat vaak gebruikte stuurprogramma's voor camera's en wordt iedere twee maanden uitgebracht. Het tweede Device Pack - het legacy device pack - bevat alleen oudere stuurprogramma's voor minder vaak gebruikte apparaten. Hierdoor kan het sneller gedownload en geïnstalleerd worden voor een betere ervaring.
Ga naar de Device Pack-pagina om te ontdekken welk stuurprogramma u nodig heeft
Bekijk onze veelgestelde vragen over Legacy Device Pack
Wat is er nog meer nieuw?
Wij werken constant samen met onze partners aan manieren om ons productaanbod te verbeteren en om geavanceerde functionaliteiten te laten samenwerken met XProtect. Net als Axis Optimizer samen met Axis Communications, een aantal plug-ins en functies die het gebruik van de camera's van Axis in XProtect optimaliseren. We hebben ook gewerkt aan een meer dynamische manier om samen te werken met apparaten van Bosch, via resoluties en metadata.
We hebben onze ONVIF-aanbod verbetert met ondersteuning voor metadata en audio aan de rand, en uitgebreide documentatie over ONVIF afgerond.
Wij geloven daadwerkelijk in onze partners in the open platform community en zullen nauw met hen blijven samenwerken om onze klanten een naadloze, volledige oplossing en goede ervaring te bieden.
Wilt u zien waar we nog meer aan gewerkt hebben?
Bezoek onze Supported Devices-pagina
Bezoek onze Device Pack-pagina