R1 2018: Wat brengt dit voor u?
dinsdag, 16 januari 2018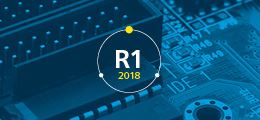 Auteur: Toyah Hunting
Product News
Als distributeur denkt u waarschijnlijk vaak aan veel leveranciers. Wellicht verkoopt u zelf geen oplossingen maar zorgt er wel voor dat anderen dat kunnen.
Bij Milestone streven we ernaar de meest innovatieve VMS-leverancier te zijn, die driemaal per jaar nieuwe waarden aan de markt toevoegt. We verfijnen en verbeteren constant onze producten, zodat u er als distributeur zeker van bent dat de Milestone oplossingen die u biedt betrouwbaar, schaalbaar en toekomstbestendig voor de klant zijn en u steeds opnieuw omzet geven.
XProtect 2018 R1 voegt duidelijk waarde toe aan al onze bestaande installaties die door een Milestone Care™ programma-abonnement gedekt zijn, waarmee klanten direct en gratis toegang hebben tot de nieuwste updates.
Hieronder een opsomming van de belangrijkste functies waarover u met uw klanten zou moeten praten:
Hardware-gestuurde videodecodering op de Smart Client
Haal meer uit een installatie en stel tegelijkertijd middelen voor andere taken beschikbaar
Door de kracht van meerdere NVIDIA-kaarten met XProtect te bundelen maken we het mogelijk de belasting van de CPU naar de GPU te verplaatsen. Hierdoor ontstaat de mogelijkheid om meer hoge resolutie camera's op de Smart Client te tonen, terwijl tevens meer HD-schermen als display of onderdeel van de Smart Wall functionaliteit gebruikt kunnen worden.
Vanuit concurrentieoogpunt gezien is Milestone de enige leverancier op de markt die hardwareversnelling biedt door meerdere NVIDIA kaarten te gebruiken.
Dit is geweldig nieuws voor XProtect® gebruikers. Het verlegt de grenzen van videobeheer en bewijst dat Milestone qua prestaties en kwaliteit voortdurend voorop loopt.
Vergroot de verkoopmogelijkheden van de nieuwste camera's en schermen in de hoogst mogelijke resolutie voor gebruik bij bestaande werkstations. Dit verhoogt efficiëntie.
Privacymaskering
Bescherm privacy zonder de beveiliging aan te tasten – zonder meerkosten
Privacymaskering is een functie die persoonlijke privacy beschermt door delen van een beeld te verbergen met een gemaskeerd gebied. Het zorgt ervoor dat gegevens intact blijven, maar zonder gevoelige, identificerende informatie die niet door derden gebruikt of gezien mag worden.
Deze geweldige functie is in veel landen cruciaal; privacy-regelgeving kan verschillend zijn tussen regio's.
Het feit dat deze functie in het VMS ingebouwd is maakt privacymaskering toegankelijk en goedkoop. Om frames te maskeren zijn geen toevoegingen of extra kosten nodig.
DLNA (Digital Living Network Alliance)ondersteuning II
Toon door camera's gemaakte video zonder computer of Smart Client
Dit is vooral handig voor winkelinstallaties die – met minimale apparatuur – op een gemakkelijke, eenvoudige en betaalbare manier video van een bepaald gebied willen weergeven. Zodra klanten het gebruik van video opmerken dient dit als uitstekende misdaadpreventie.
Legacy Device Pakket
Download snellere en meer efficiënte drivers voor vaak gebruikte camera's
XProtect® ondersteunt het grootste aantal camera's en apparaten in de sector; meer dan 7000. Om grote, langdurige downloads te vermijden wordt het Device Pack nu gesplitst in een primair Device Pack met drivers voor de meestgebruikte apparaten en een Legacy Device Pack met drivers voor oudere en minder gebruikte camera's. Dit is nog een stapje dichter bij een snellere download en een geweldige gebruikerservaring.
Wat uw organisatie moet weten
eLearn nu Verken de XProtect 2018 R1 Update functies om de voordelen beter te begrijpen.
Promoot de kans meer Milestone Care te verkopen