Meer opties en eenvoudige installaties met het Milestone System Builder-programma
maandag, 12 maart 2018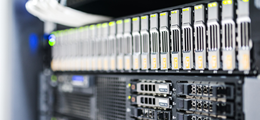 Auteur: Toyah Hunting
Product News
Het Milestone System Builder-programma maakt het voor hardware- en infrastructuurleveranciers mogelijk om hardware te bouwen, te verkopen en te verzenden met vooraf geïnstalleerde XProtect VMS-software die eenvoudig kan worden geüpgrade naar elke XProtect-versie.
Dit programma is bedoeld om het bereik van de Milestone-gemeenschap uit te breiden, de verscheidenheid aan geverifieerde hardware-oplossingen te vergroten, de kanaalefficiëntie te vergroten en klanttevredenheid te garanderen.
Kortom, hiermee kan elke klant een goede start maken met 's werelds meest toonaangevende VMS. Nu kunnen klanten meteen met XProtect Essential+ beginnen en upgraden zonder opnieuw te installeren. En het maakt het eenvoudiger om op maat gemaakte oplossingen te ontwerpen voor geselecteerde segmenten en verticalen.
Het System Builder-programma is open voor alle hardwareleveranciers, zoals grote IT-hardwarefabrikanten, bestaande server- en opslagpartners, NVR-hardwarefabrikanten en gespecialiseerde fabrikanten. De hardwarepartners in het Milestone System Builder-programma die producten met de Milestone VMS-software verzenden kunnen hardware ontwerpen die past in specifieke surveillance-marktsectoren en profiteren van de mogelijkheid om IoT en Kunstmatige Intelligentie aan te boren via de oplossingsgerichtheid van de Milestone-gemeenschap.
De voordelen voor Channel Partners
System Builder-partners kunnen hun hardware-oplossingen met vooraf geïnstalleerde XProtect VMS-software via hun eigen kanaal verkopen of het Milestone-kanaal gebruiken. Ongeacht het go-to-market-model voor de hardware, zal alle XProtect VMS licentieverkoop worden gedaan via het bestaande Milestone-kanaal: als Milestone-reseller profiteert u van eenvoudigere implementaties op hardwareconfiguraties die zijn uitgeprobeerd en getest. U zult ook extra upsell-mogelijkheden ontdekken van een breder scala aan klanten die zijn gestart met XProtect Essential+.
Met geteste en gevalideerde hardwareconfiguraties van toonaangevende hardwarefabrikanten, een grotere keuze aan hardware, lagere systeemontwerpkosten en geoptimaliseerde onsite implementatie en configuratie, wordt het voor u als Channel Partner eenvoudiger om oplossingsbundels te verkopen en te leveren. U kunt dit met een gerust hart doen, omdat het product gegarandeerd werkt en omdat de hardware een validatie- en benchmarktest heeft doorlopen.
Wat levert het de eindgebruiker op?
Het beste van twee werelden: Ze krijgen 's werelds meest toonaangevende VMS met de hardware van hun keuze. Omdat de System Builder-oplossingen gevalideerd en gecertificeerd zijn, kan de klant gerust zijn en vertrouwen op de gekozen oplossing. Bovendien kunnen ze in een later stadium hun systeem op- of afschalen, mocht dat nodig zijn.
Het System Builder-programma heeft alles te maken met gebruiksgemak. Klanten kunnen de XProtect-experience nu met een paar klikken zelf ervaren op hardware naar keuze. Niemand anders doet dit," zegt Bjørn Skou Eilertsen, CTO van Milestone Systems. "Door gebruik te maken van het rijke spectrum van add-ons van Milestone Solution Partners kunnen klanten ook hun weg vinden in de wereld van intelligente video-oplossingen."
Wat kunt u nog verwachten?
Het System Builder-programma zal in 2018 geleidelijk worden uitgerold. Meer informatie volgt binnenkort.