Public Transportation Turns to Advanced Video Solutions for Passenger Safety
Friday, 21 August 2020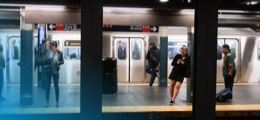 Get your copy of the e-book now
With the goal of reducing emissions, pollution and congestion, improve public spaces and boost convenience for citizens, cities are using information systems that collect data about traffic, vehicles and usage of different modes of transports. This helps cities make public transport more efficient and accessible, which is drawing more people to using it.
But what effect does an increase in passengers have on security risks and threats? What does the explosion of data mean for cyber-security and data privacy? And how can security professionals work closer with law enforcement and city officials to proactively mitigate security threats?
Security operators used to be burdened by countless false alarms and the manual process of reviewing hours of video footage. At that time, cameras had no built-in intelligence, so surveillance recordings were only effective for analyzing past crimes and not preventing future ones.
Today video surveillance is a proactive security operation. There are three main elements to an intelligent approach to video surveillance:
An intelligent video surveillance platform
An intelligent video surveillance platform is equipped with monitoring software that analyses, assesses, and responds to data, events, and images it sees via intelligent cameras.
Intelligent cameras
Focus on intelligent cameras that can integrate with video management systems. They actively detect individual risks and interpret and highlight security issues.
Sensor technology
Sensor technology can be added to your video management system to, for instance, independently recognize visual security breaches such as abandoned packages or suspicious behavior.
Through the integration of Intelligent cameras, AI, video analytics, and innovative sensor technologies, you can tell the difference between moving people and safe background conditions, such as blowing trees or splashing fountains. No longer do these areas form a security blind spot and most time-consuming false alarm scenarios can be eradicated. This means security personnel can apply their judgment and experience based on clear, actionable information.
A comprehensive proactive strategy can dissolve threats As transport operators digitalize their operational technology, the risk of a cyber-attack is elevated, and the focus needs to be on controlling and protecting this architecture. No enterprise is completely immune to cyber-attacks, but a comprehensive proactive strategy can eliminate many threats. It is indeed possible to reduce the likelihood of disruption resulting from cyber-attacks. However, the following measures need to be in place:
Implementation of security best practice
Establishing an effective risk governance structure in line with other risk types and maintaining board engagement
Establishing a process to better understand the threats and risks to the organization and setting of risk appetite for cyber exposures
Establishing incident-response capability with tested incident-response plans, minimizing the impact of any cyber-attack
With the accelerating use of smart technologies, the public transportation companies' security demands are growing bigger by the day to ensure that passengers, assets and buildings are safe and protected at all times.
Advanced video technology is paying an important contribution to meet those demands, because they give the transportation operators a 360-degree view of what is going on. That way they can identify potential threats and risks as they happen and react fast.