XProtect on AWS
Monday, 20 April 2020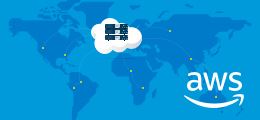 As announced at MIPS 2020 in Dallas, Milestone has become a member of the Amazon Partner Network and will offer XProtect on AWS this summer. Milestone will offer two products on AWS: XProtect with full feature compatibility as on-prem, and XProtect Essential+ Milestone's free product. Both products offer a cloud deployment alternative to the traditional on-prem VMS systems and will be deployed directly from AWS Marketplace. Licenses required to activate XProtect on AWS follow a BYOL Bring Your Own License model, meaning they are distributed using Milestone's current distribution channel only.
AWS Amazon Web Services
AWS Amazon Web Services is a secure cloud services platform, offering infrastructure services such as computing power, storage options, networking and databases, available in seconds worldwide. Deploying XProtect on AWS provides you with the highest level of flexibility and control over your IT resources. Imagine deploying XProtect in just a few clicks within twenty minutes.
EC2 Amazon Elastic Compute Cloud makes this possible. EC2 provides secure, resizable compute capacity in the cloud. It allows you to obtain and configure capacity instantly with minimal friction. No need to worry about capacity planning, storage hardware, software maintenance, or any other undifferentiated heavy lifting involved in installing on-prem VMS systems.
AWS Marketplace
XProtect on AWS is deployed directly from AWS Marketplace. AWS Marketplace is a digital catalog that makes it easy for customers to find, buy, deploy, and manage third-party software and services. Using XProtect on AWS Marketplace means you can automate your OS and VMS installation, launch a pre-configured VMS in just a few clicks and immediately start using XProtect.
Both Milestone's products on AWS Marketplace are AMIs Amazon Machine Images of XProtect and XProtect Essential+. AMI is a pre-configured template, allowing you to quickly and efficiently determine what computing power, memory, storage, and other factors you should deploy your application on, based on your business needs. It also speeds up configuration and deployment compared to the more complexed on-prem alternative. When it comes to security, as an AWS customer, you benefit from a data center and network architecture built to meet the requirements of the most security-sensitive organizations.
In order to benefit from AWS Marketplace, customers must become subscribers of AWS and open an account. Obtaining the XProtect AMI is free of charge directly from AWS Marketplace. Activating XProtect VMS on AWS requires a valid XProtect license. End-users are free to use their existing XProtect license under the BYOL model or purchase one through Milestone's existing distribution channel. Users of the free product Essential+ on AWS, are free to upgrade to a paid product by activating a valid XProtect license at any time.
Target audience
Cloud deployment might not be right for every customer or partner. The benefits derived from the solution and its architecture, make it ideal for large enterprises and multisite enterprises, as well as for federal organizations and smart cities. Two customer segments that generate the most value for partners are:
Existing AWS customers who are not Milestone customers - since they understand and appreciate the benefits of cloud computing, already have an AWS account and possess the necessary AWS skills.
None AWS none Milestone customers - looking for a VMS alternative and are interested in cloud deployment.
This solution is also relevant to some existing Milestone customers who use XProtect on-premise, whether they are AWS customers or not. Such customers might be interested in cloud deployment and are looking to benefit from its architecture and advantages.
Interest in cloud deployment is essential for partners who want to scale their business and tap into this exciting opportunity. Whether you are an AWS expert or have no experience with their services, we are here to make sure you are knowledgeable and ready to communicate the cloud value and to create real value for your customers without even leaving your office.
Throughout the next few months Milestone will launch a free training & certification program designed to teach you how to run XProtect on AWS.
Learn more about XProtect on AWS: https://www.milestonesys.com/xprotect-on-aws