Expanding Protection Beyond Fences and Doors with Gallagher
Friday, 19 June 2020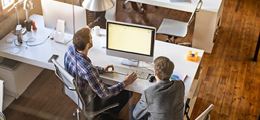 Security solutions are essential business systems, and uniquely positioned to deliver value that goes beyond traditional applications.
By leveraging Gallagher's robust platform, day to day operations and function can quickly pivot to include new applications for the risk management toolsets provided to support adherence of critical regulations during and post pandemic. You can mitigate the health and safety risks facing businesses, ensuring continuity of operations and a more seamless transition back to work, with Gallagher security solutions - now fully integrated with Milestone video management software.
The COVID pandemic requires organizations to develop sound corporate policy regarding duty of care while complying with federal, state, and local regulations, ordinances, and guidance to keep the public and workforce safe.
Here are some actions to consider to help ensure health, safety, and security:
Remotely provision mobile credentials to mitigate health risks for those who require access to a site.
Alert staff on critical information via SMS or email with broadcast notifications.
Ensure social distancing with zone counting – receive alerts if the number gets too high or deny access if zone is at capacity.
Use a COVID clear competency to grant access only to those who have been tested and passed.
Monitor the number of people on site, who they are, and where they are located with Tag Boards and Mobile Evacuation
Implement secure contactless access via frictionless biometric readers.
Use Random Selection of cardholders for additional screening and medical checks.
Configure competency warnings for important reminders to staff at a T20 reader.
The cost of shutting down a site due to non-compliance, security breaches, infections, accidents or intentional damage can be proactively managed and avoided. Gallagher's Milestone-integrated security management solutions can support you, your colleagues, visitors and contractors to be safe, secure, healthy and compliant.
From intelligent bi-directional integration with XProtect VMS to building management systems, people and time efficiencies gained through automation, policy enforcement and smart use of resources, Gallagher solutions are designed to save worry, time and money.
Please click to review more detailed information on Gallagher's Milestone Integration here
A Gallagher solution is much more than access control, by fully integrating XProtect video verification, access control, intrusion detection, perimeter protection, health and life safety, people management, and business policy enforcement – unparalleled business efficiencies are achieved.
Learn how PotashCorp (the world's largest fertilizer company by volume) partnered with Gallagher and Milestone to upgrade their legacy system to achieve increased functionality and tangible cost savings across facilities and business interests in seven countries.
PotashCorp produces three primary crop nutrients – potash, phosphate, and nitrogen and is recognized as the world's leading potash producer, they are responsible for 20 percent of the global capacity. After thoroughly vetting their options, PotashCorp has found that with Gallagher, the cost per door will be one-quarter less than that of their previous system. They are still witnessing a substantial return on their investment. "The open integration, cost savings, and ease of reporting is truly remarkable. The difference and quality of the system is undeniable in comparison to what we had prior to Gallagher Command Centre," says Jeff.
Read the full case study here
To Inquire about joining the Gallagher family of Authorized Certified Partners, or learn more about recent updates and on goings click here