Q&A with Björn Callenfors of Axis Communications
Wednesday, 22 July 2020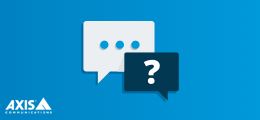 Axis Communications enables a smarter and safer world through video network solutions. It operates in more than 50 countries, offering video surveillance, access control, and audio solutions, as well as training, service, and support.
Milestone recently sat down with Björn Callenfors, Business Development Ecosystem Manager at Axis Communications to discuss the company's work, how it changed its approach because of Covid-19, and the Milestone partner community.
1. Firstly, how has Axis changed the way it operates as a result of the pandemic? Do you see any of these being lasting changes?
The biggest change has come about because everything is now done remotely. Every company is looking at different solutions whether that's webcasting or webinars. Yet, the danger is that people are unfamiliar with new tech, so you need to make sure we're using a medium that people want to listen to and engage with.
So right now, Axis is asking questions to our customers and partners about how they want to communicate and what content they'll find useful at this time. We're evolving and understanding the digital space better - and the change brought about by the pandemic has pushed us in that direction.
2. How have your customers reacted to the pandemic, and how have they been working around the significant challenges it poses?
It's been very different depending on their solution, in the network video space we cater to a variety of customers using video in different contexts. Broadly I'd say we've seen changes in spending in some areas and a focus on new solutions for social distancing in public spaces. This is a process where you can get a lot of assistance with network video. It's very much an emerging market.
I'd also like to mention cybersecurity because the needs here are still the same despite the urgency of deployment. You still have to do the same due diligence on the vendors you work with. Axis has been very careful, adding resources into teams to uncover potential risks in the rapid deployment of systems. We've tried to do as much as we can from a vendor perspective. This is because we're trusted for recommendations - so we need to do the best due diligence no matter how urgency of the circumstance.
3. As Europe emerges from lockdown, what use of video technology do you envisage coming to the fore as a result of the pandemic?
I expect we'll see an emerging market in frictionless access control. Someone can visit a grocery store without having to talk to staff or checkout at a manned till. Smartphones and video will come together to improve public safety and adhere to health guidelines, and it can be used for multiple things. For safety and loss prevention, plus capturing usage and footfall within a building, store or city.
Nobody foresaw this happening. That's where open tech has really helped our customers and us. If you work with open tech and partners that allow for greater customization, you have the flexibility needed to adapt to future unexpected events.
4. Axis features on Milestone's Marketplace – how has that platform been a benefit to you?
I'd say that the network video and physical security space are sometimes very traditional. Meanwhile, the IT industry is light-years ahead. Milestone Marketplace is a very good example of bringing the open community to the unfamiliar, and in an accessible way. It makes it an easier sell because of the flexibility on offer, the control, the ownership of equipment and data, and the value that the tech brings.
5. Outside Axis technologies, which other Milestone partner technologies do you admire?
Machine learning algorithm partners are using video to extract smart data. This has been accelerated due to the accessibility of open-source networks for machine learning. We're going to see much more of this going forward.
Because the physical security space is traditional and can be risk-averse, we need to get the message through that evolution is needed now. Otherwise, someone else will run faster than you. This is the biggest challenge for companies like Axis and Milestone, we must remain at the forefront.
6. What is your approach to innovation?
We realised early on that we needed an open platform, a space where the industry could contribute. Because you never know where innovation will come from. The largest tech companies today started as a one-man-band in a garage. If you have open tech, others can do smart stuff with it - stuff you never thought of.
That's innovation. This focus on open is what makes Axis unique.
If you're interested in becoming part of the Milestone Partner Community, connect with me today and get in touch.
Find out more about Milestone Systems at www.milestonesys.com
Find out more about Axis at www.axis.com