Unprecedented Times Call for Unprecedented Support
Friday, 20 March 2020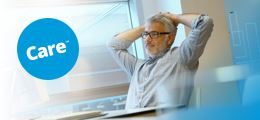 In these uncertain times, remote monitoring and security are more vital than ever. Your customers need to be able to use Milestone XProtect® to the best of its abilities, and we are here to help them with our new Care™ campaign.
We are offering three new sales campaigns for immediate activation, all featuring the world-class support of our Milestone Care™ program and revenue opportunities: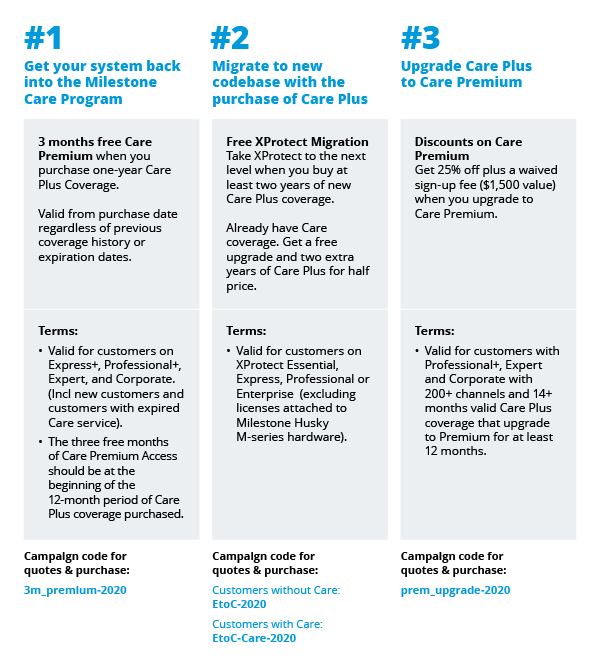 #1 Get your system back into the Milestone Care Program
All XProtect Express+, Professional+, Expert and Corporate installations without current Care Plus are eligible for a 1-year renewal to help installations get back on track with software maintenance and to manage budgets with end-users. This is an exception to our regular three-year opt-in requirement for re-entering the Care™ Plus program.
This offer includes three months of free access to Care Premium at the beginning of the 12-month period, which gives the end-user direct access to Milestone support that can be of direct assistance to the end-user.
#2 Migrate to Milestone's new codebase with the purchase of Care Plus
To help you and your customers be proactive, Milestone will migrate any site using XProtect Essential, Express, Professional, or Enterprise with the purchase of Care Plus.
Sites without Care Plus coverage must purchase at least two years of Care on the equivalent upgrade product. Sites with existing Care Plus coverage can migrate when they commit to two years of Care Plus coverage at half price.
#3 Upgrade Care Plus to Care Premium
XProtect installations with 200+ channels are now eligible for a Care Premium upgrade. Care Premium lets the end-user contact Milestone Support directly by phone or by opening a case. Support remains open 24/7 for you and your end-users.
This offer includes a waived USD$1500 start-up fee for Care Premium and a 25% discount on the Care Premium upgrade for coverage purchases of 12+ months
Get a full campaign overview and other supporting materials in our content portal. GET MORE DETAILS
For how long is this campaign valid? Until November 15, 2020
How do I place an order? You can make purchases via your regular distribution channels. Please reference the campaign codes in the campaign overview.
NOTE: Offers CANNOT be combined with other discounts or offers.
Need more info?
Contact Sales Support at:
AMERICAS
partneractivation@milestone.us