Milestone: from innovative tech start-up to frontrunner tech scale-up
Monday, 15 October 2018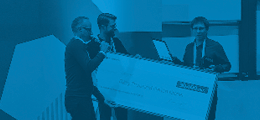 Author: Toyah Hunting
Company News
This past month has seen Milestone President and CEO Lars Thinggaard take part in two entrepreneur-focused activities at Copenhagen Business School and the Technical University of Denmark. At this latter High Tech Summit, Thinggaard honored innovative technology startup Measurelet with the Milestone Innovation Award 2018. At the former, he presented the Milestone Entrepreneurship Award to startup company RadiSurf ApS. Both winners were awarded cash prize and mentorship with Milestone Systems' executive management team.
Optimize for life, not just profit
In Thinggaard's keynote speeches, he emphasized how startups should optimize for life, not just for profit. And why Scandinavian leadership culture fosters a true entrepreneurial spirit through a strong focus on values and own goals.
Harvesting the innovative tech power of the open platform community
To stay relevant and remain the number one global VMS vendor, Milestone needs to stay ahead of the innovation game. We need to challenge ourselves and our global community of thousands of tech partners to develop solutions that help make the world see how we can protect people and assets and improve the bottom line.
That is why we are accelerating innovation.For instance through our global Milestone Community Kickstarter contest for coders and developers, individuals and organizations, who can use Milestone's open platform technology to ensure safety, protect assets and increase business efficiency – above and beyond the world of traditional security. The winners get to further develop their idea, and have it certified by Milestone.