Get more cameras in high resolution with lower CPU load
Tuesday, 16 January 2018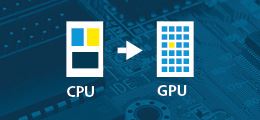 Author: Toyah Hunting
Product News
High performance at a reasonable cost
When dealing with large-scale installations, being able to offer high performance at a reasonable cost is an essential part of winning large bids. That's where hardware accelerated video decoding comes in handy.
Our first Product Update this year features hardware accelerated video decoding on the Smart Client utilizing multiple NVIDIA graphic cards, as well as the GPU built into the Intel CPU. In short, this means that you get more cameras in high resolution with a lower CPU load. With cameras becoming more advanced and higher resolution and modern installations requiring more cameras per server, it is crucial to provide a way to utilize the CPU as much as possible.
What does reducing the load on the CPU entail?
Until now, our VMS used to utilize the built-in Intel card only, putting the necessary load for decoding video in the Smart Client on the CPU. By allowing the use of multiple NVIDIA graphic cards with our VMS, we make it possible to shift the load from the CPU to the GPU, resulting in the ability to display more high-resolution cameras on the Smart Client, as well as using more HD screens for display or as part of the Smart Wall function.
By reducing the load on the CPU, you can run more cameras per server than ever before. This means you can use fewer servers per installation or lower spec servers. For existing installations, it also means that the same number of cameras will have a lower CPU load, freeing up resources on the server for other components and processes.
2018 R1 provides a real way for users to maximize the true potential of their installations for maximum security using most modern devices.
More of this to come
This feature is the first part of our product roadmap regarding hardware acceleration and is great for customers that need to better utilize their resources.
Check out our full Product Update R1 2018
eLearn now
Explore the XProtect 2018 R1 Update Features to better understand the benefits.