This team is here to help you
Monday, 8 May 2017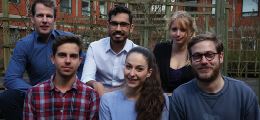 Author: Toyah Hunting
Company News
This team is here to help you
Jorge Guzman Michua is Partner Activation Manager EMEA at Milestone Systems.
"Our now 11-strong team was born back in 2014 to help our partners sell more and grow their businesses. We activate them by making learning tools available, helping them find information they need and letting them know about events where they can meet prospective business partners and peers."
"We primarily work with resellers", Jorge says. "We welcome them to Milestone with guides to how they can find price lists, how they can register software and attend commercial and technical seminars."
How do you find what you don't know that you need?
"When new resellers sign on to be Milestone partners, they often need a helping hand to point them towards relevant procedures, documents and opportunities. That's what our team does, in 15 languages. We call them up, send personalized email and help them solve any kinds of challenges they may be experiencing as a Milestone channel partner," Jorge explains.
Making the cake bigger for everyone
In addition to these support functions, the EMEA Partner Activation team also helps scan for business leads.
"If someone in EMEA downloads software, we give them a ring within a week to hear their thoughts on what they intend to do with it. Is it for a project, are they planning to resell it or are they end-users downloading it for personal use?", Jorge continues.
"From there, we can help them get what they want and need. If we have a potential reseller on the line, we can help them enrol in our Channel Partner Program, for instance. Once they're in that program, there's help available for future video management projects. In this way, we can help generate sales opportunities for all kinds of different members of the Milestone partner community," he concludes.
Want to get in touch with the EMEA Partner Activation team?
Contact your Distribution Channel Manager