Win projects with our Global Bid Desk
Saturday, 31 December 2016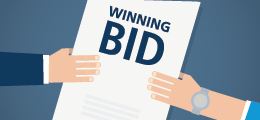 Author: Toyah Hunting
Partner News
Increase your chance of winning projects with our Global Bid Desk
A lot of the tender questions are the same. The Milestone Bid Desk knows this and can help you as partners focus your energy on building the actual proposal together with Milestone. It can help you develop the solution rather than spend time on dealing with the basic paperwork surrounding the tender process.
What can the Global Bid Desk do for you as a partner?
We established the Bid Desk back in 2014 to help improve the pursuit decision. Sometimes we would receive tenders without being able to estimate our potential chance of winning and whether it made sense to pursue it or not. We also wanted to optimize the time spend on processing the tenders.
he Bid Desk team commands a central repository of tender-relevant knowledge available to Milestone partners.
It is all about automating as many tasks in the bid process as possible, to save time and manpower. The Bid Desk has a set of tools that can help assess whether the tender is specified for Milestone VMS or whether it is intended for a competitor. Again, to help with the pursuit process.
The Bid Desk helps partners develop their capture strategy: What makes them unique and suited to win this? How do they stand out? Partner can then take this capture strategy and create their own response, hopefully making them outshine the competition.
As a bonus, our tools also give us the opportunity to perform a Clear Language analysis on the final response. This assists us to respond in a way that is easy to read and understand. This is yet another quality tool that help you to come out on top.
Extensive regional support

Over the past years, we've helped win bids of all sizes, amounting to projects ranging from 1200 and up to 100 000 licenses. In 2016 we started supporting the regions even better, by supporting tender responses for our six non-English core languages: French, Spanish, Italian, German, Russian and Turkish. When the need arises to respond in other languages, we have direct access to our translation agency, for immediate tender response translations.
We also established a process for handling any foreign language tenders. Now we can receive a tender in any language and have an English version ready in a few hours and begin the initial compliance check and pursuit decision.
First step: Get in there early
So, what can you as a partner do to help increase your chances of winning a bid?
The first and most important step is to get in there earlyThe Bid Desk needs to receive all the tender documents as quickly as possible to have a clear understanding of the requirements. Once that is done, you as a partner of course need to be prepared to respond to our advice.
"The Bid Desk saves partners a ton of time and significantly improves the quality of bid responses," Chief Sales and Marketing Officer Kenneth H. Petersen at Milestone Systems says. "This partner service helps ensure consistency and makes the process easily repeatable. It means that partners don't need to have in-house resources dedicated to coming up with unique bid documents every time they compete to win a bid."
In short, The Bid Desk means that you don't have to invent the wheel every time, or spend more time than absolutely necessary on the routine parts of the bid process.
Register you project in MyMilestone to get a discount or contact the Global Bid Desk with your tender questions.