Alliance Partners to present cutting-edge solutions at IFSEC
Monday, 8 May 2017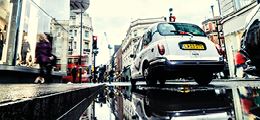 Author: Toyah Hunting
Event News
Europe's only large-scale security event in 2017 takes place in London on June 20 – 22. IFSEC International gives you access to over 10,000 security solutions and live product demonstrations by Milestone and our partners.
Experience the power of integration by seeing the following analytics solutions live at booth #750:
Araani: Video Smoke Detection for Critical Environments
Araani's smart video analytics make it possible to detectsmoke and other dangers in critical environments in a very early stage. In cases where traditional detection technologies fail, Araani's video analytics are a reliable, fail­safe solution to protect your people, property and production process.
Edesix: Body-Worn Camera Solutions
Edesix is the market leader in Body Worn Camera Solutions thathelp improve safety whilst producing compelling evidence when needed. The flagship product series, VideoBadge is a Body Worn Video system, often styled as an ID card holder. Its simple operation, footage encryption and wire-free design make it extremely versatile and suitable for all types of users and applications.
Nedap: Access Control with No End of Life
With AEOS Access Control, authorisations are allocated to people not cards, making it an easy access control system to manage. You configure everyone's profile centrally and their cards update automatically. Set authorisations however you wish for everyone, from employees to visitors, suppliers, contractors and even vehicles. You can use pre-defined factors such as department, function, shift or country and will save days in administration time – with far fewer mistakes.
OnCam: Experts in 360° and Wide-Angle Video
This independent, specialized IP video and technology company is known for being one of the most innovative ones on the market. Oncam's sole focus is on 360-degree smart IP video - working with partners to deliver high-value business solutions for customers that leverage Oncam's award-winning technology.
Agent VI: Comprehensive Video Analytics Solutions
CNL: Complete Integrated Situation Management
Digital Barriers: EdgeVis Live Wireless Real-time Video
Ipsotek: Intelligent VCA for Challenging Environments
Siklu: Millimeter Wave Wireless Connectivity
Southwest Microwave: Integrated Perimeter Detection
Venzo Secure: Engineering the next level in high performance computing and IoT
We all look forward to seeing you in London on June 20-22!
Sign up for IFSEC here
Get an overview of Milestone activities at IFSEC here