Changing the industry with hardware accelerated decoding
Tuesday, 31 January 2017
Author: Kimberly Sallingboe
Product News
When dealing with large-scale installations, being able to offer high performance at a reasonable cost is an essential part of winning large bids. To that end, we are introducing a ground-breaking new technology: hardware accelerated video motion detection.
Built-in video motion detection (VMD) is already a means for organizations to lower their total cost of ownership by making the best use of available storage and reducing wear and tear on the recording disk. With hardware accelerated VMD, we shift video decoding from the software CPU to the hardware GPU.
What does this mean for an installation?
Transferring the video decoding from the CPU to the GPU means a significant reduction in the load on the CPU. This is fantastic news, because by reducing the load on the CPU, you can run more cameras per server than ever before. This means you can use fewer servers per installation or lower spec servers, resulting in a lower total system cost. For existing installations, it also means that the same number of cameras will have a lower CPU load, freeing up resources on the server for other components and processes. For example, it will be possible to fully run video motion detection with the latest H.265 video compression.
For system integrators deploying mid-to-large-scale installations with hundreds of cameras, this technology will be a game changer and set you ahead of the competition. The Husky M500A and M550A can also take advantage of hardware accelerated VMD to get a reduced CPU load and the ability to use more server-side VMD cameras.
Documented results
Tests run by our Product Group indicate that hardware accelerated VMD results in a substantial performance improvement. Based on one of the tests we performed in-house, customers can have twice as many cameras on the same server with the same CPU load, or experience up to 90% reduction in CPU load with the same number of cameras on the server*.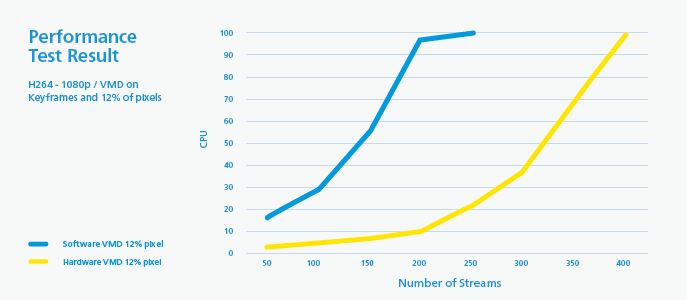 Offer superior performance at a low cost
Hardware accelerated VMD is just the latest in a line of enhancements to our XProtect Advanced VMS products that offer mid-to- large-scale installations outstanding performance, while lowering TCO. Consider the following:
Our recording server, built as a native 64-bit Microsoft Windows service, offers a documented recording capacity of at least 3.1 Gbit/s.
Our Smart Client offers hardware accelerated decoding, providing a smoother presentation of video feeds and enabling users to display 3.5 times more cameras per workstation than competing solutions.
Our ability to record pre-buffer in the RAM means less wear and tear on the recording disks, meaning more cameras can be added to the recording server and customers can use a lower specification disk.
SQVR™ enables customers to record high-quality video using edge storage and low-quality video centrally, thus reducing the overall network and storage costs.
All of these features add up to a system that offers better recording performance, improved flexibility when selecting storage components and a lower total cost of ownership across the installation's lifetime.