Learning & Performance Catalog Available
Sunday, 4 September 2016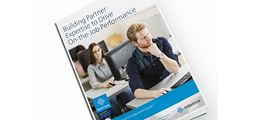 Author: Toyah Hunting
eLearning
Empowering on-the-job performance through learning
At Milestone, we want to empower the people in our community to successfully perform on the job by delivering accessible training options. Our vision is to grow the number of people globally with proven expertise on the design and implementation of Milestone community solutions. We believe it is important for our partners to find us easy to do business with, and ensuring our products are easy to learn and use supports this ideology.
Milestone Learning & Performance Catalog
The Milestone Learning & Performance catalog is a descriptive directory of the training and certification options that are currently available for our partners and customers. From instructor-led training workshops and free eLearning courses to online certification assessments, this catalog helps ensure our community knows what we have available to help them to be successful.
In order to support our global community, the Learning & Performance catalog is localized in several languages and is available on the Learning Portal. It is updated periodically to reflect additional offerings as they are released. In addition, contact information for our regional training and certification teams is also included so you can reach out directly for any questions you may have.
eLearning
eLearning is a convenient way of getting immediate access to free training online. We offer an ever-increasing number of eLearning courses for integrators and reseller partners, as well as end-user customers. The goal of these short, self-paced modules is to give learners a basic level of knowledge and skill in installing, configuring, or using our products. Available for free and with 24/7 accessibility, they are a great way to get started installing, configuring and using the Milestone Husky™ network video recorders, XProtect® Professional software, and XProtect® Smart Client.
Also, starting with the release of our XProtect 2016 product, eLearning will be used to instruct users how to use each new feature introduced. When a new version of our software is released, look for modules to be released covering new features.
Redesigned instructor-led training workshops
Develop your knowledge and skills
When redesigning the instructor-led classes earlier this year, we aimed to make them much better at preparing learners to perform on the job. After identifying exactly which competencies are required to successfully design, install and configure surveillance solutions, and understand exactly who our target audience is for our different workshops, we redesigned our class content. Our training workshops use a combination of real-world scenarios and hands-on exercises to build the knowledge and skills necessary to successfully design, install, and configure Milestone Advanced products to meet customer needs.
Our instructor-led training workshops are delivered all over the world and in several languages. They are industry-recognized and CEC credits are available through BICSI. Attending our training workshops helps prepare participants to pass corresponding certification assessments, which are no longer delivered in class, but rather completed online.
Redesigned Certification assessments
Prove your knowledge and skills
Earning a Milestone certification proves expertise with our products and is a promise to end customers of the certification holder's ability to design, install and configure surveillance solutions that meet their needs. Our new certification assessments are similar to those in the IT industry and are great measures of the certification holder's ability to perform on the job.
Our certifications are now separated from training and have moved online. We have expanded the number of questions, added simulation and scenario question types and implemented question randomization and the use of question pools. Our certification assessments are available 24/7, in several languages. Diplomas are issued once a certification is earned.
Visit us online to learn more.
Check out the Learning & Performance catalog
Please contact Milestone Learning and Performance if you have questions or comments about eLearning courses or classroom training.