The Milestone Husky™ 550A: Redefining the NVR server
Tuesday, 4 October 2016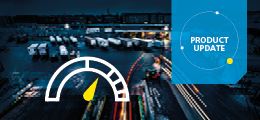 Author: Toyah Hunting
Product News
Redundant dual power supply, up to 10GbE over CAT6 and no limits to the amount of enterprise storage – these are just a few of the benefits enabled by the newest Milestone server-class Husky™, the M550A NVR. With the second high-performance NVR released in 2016, Milestone now leads the industry in recording rates for the 1GbE and 10GbE segments.
Milestone Husky M550A in short:
Redundant power supply
Up to 10GbE over CAT6
Up to 64TB storage
Hot swappable drives
Unlimited enterprise storage support
Guaranteed recording rate of 1400Mb/s
With the launch of the Husky M550A, Milestone is entering the 10GbE NVR server segment for the first time in Milestone's history. Our newest, server-class NVR is the first in the industry to have a converged network adapter, which enables customers to extend the built-in storage using enterprise class storage from EMC, Dell, HP, Netapp and other storage manufacturers.
The greenest 10GbE NVR in the industry
Designed around Intel's X550 converged network adapter, the M550A reduces the installation complexity of server class 10GbE NVRs because it utilizes existing CAT6 cable infrastructures. It also has 50% less power consumption than previous Intel CNAs (Converged Network Adapters), which makes the M550A the greenest 10GbE NVR in the security industry.
The highest-performing NVR in its class
The converged network adapter provides hardware-based, high speed iSCSI and FCoE (Fiber Channel over Ethernet) interfaces, enabling customers to connect an unlimited amount of storage for both live video databases and archives. The M550A also provides an industry-leading recording rate of 1400Mb/s and supports up to 768 cameras, making it the highest-performing NVR in its class.
How does the Husky M550A compare to the Husky M500A?
The Husky M550A addresses larger scale NVR deployments with its use of 10GbE converged network adapter and provides 1+1 redundant dual power supply. Traditionally, NVRs are deployed as a stand-alone all-in-one NVR installation, but the Husky M550A can be deployed in many other ways. It can replace expensive IT servers for large-scale, multi-NVR environments which require the use of external storage archives. It can also be used in high-availability, complex solutions or globally dispersed operations with centralized management.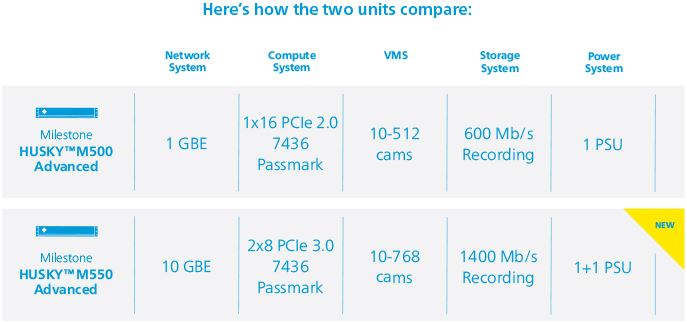 With the Husky M500A and the Husky M550A, Milestone is providing the best price and performance in the industry in their respective NVR classes. The long-awaited dual power supply support, the best-in-class energy efficiency and industry-leading price-to-performance ratio make the Husky M550A an excellent option for the 10GbE advanced market segment.
Related downloads:
Milestone Husky M500A/M550A Product Specification Sheet
Milestone Husky M500A/M550A Product Presentation
Milestone Husky M550A – boilerplate
Milestone Husky Series Comparison chart
Disclaimer: This translation of the English version of this article is for information purposes only. In case of a discrepancy, the English original will prevail.