Device Pack highlights 2018
Monday, 30 April 2018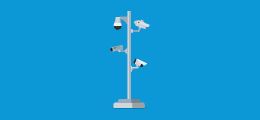 Author: Toyah Hunting
Product News
As the open platform company, we are dedicated to ensuring our XProtect® software works with the widest choice of devices. For years, we have issued bi-monthly device packs with drivers that help users connect Milestone VMS to other devices. This year we just passed 7,000 supported devices – that's an industry record. No other company out there can sport those kinds of numbers. We are proud of our ability to support so many technologies and that we welcome so many new and cutting-edge devices into the community every single year.
Check out which devices we support
Why Milestone Systems' device support stands out
Our Device Packs stand out in a number of ways. First of all, they are independent from the product. That means that you don't have to wait for a Product Release to get the driver you need. You can find it whenever you need it through our Device Pack page.
40% of our drivers are now integrated through ONVIF, an open industry forum that provides and promotes standardized interfacesfor effective interoperability of IP-based physical security products.Basically, that means that if your product is ONVIF-compliant, we will work with you and you can work with us and everyone connected to us in our open platform community.
New go-to-page for Device Pack highlights
This year, we launched a tool aiming to make it even easier to do business with and handle Milestone products. Drivers have so far been delivered bi-monthly via a download-heavy device pack, which is included in the XProtect VMS installer. To reduce download time, we have now the device pack into two. The main device pack, contains commonly used camera drivers and is released every two months. The second device pack - the legacy device pack- only contains older drivers for less commonly used devices. This gives users a faster download and smaller installer for a better overall experience.
Go to Device Pack page to find out which driver you need
Check out our Legacy Device Pack FAQ
So what else is new?
We constantly work with our partners on ways to improve our product offering and make advanced functionality work with XProtect. Like the Axis Optimizertogether with Axis Communications, a suite of plugins and features that optimize the usability of Axis cameras in XProtect. We have also worked on a moredynamic way of working with Bosch devices, through resolutions and metadata.
We have enhanced our ONVIF offering with support for metadata and audio on the edge, as well as completed extensive ONVIF documentation.
We truly believe in our partners in the open platform community and never cease to work closely with them on providing our customers with a seamless, full solution and good experience.
Want to see what else we've been working on?
Visit our Supported Devices page
Visit our Device Pack page