Ahorro para el cliente con Device Pack 8.7
Sunday, 4 September 2016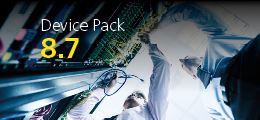 Author: Jos Svendsen
Product News
Soporte para HD analógico de HIKvision de manera rentable y compresión digital para ahorrar espacio en disco de Axis son las características clave en el Device Pack 8.7.
www.milestonesys.com/support/download-software/
(ENGLISH)
Milestone Systems, the open platform company in networked video management software (VMS), has released Device Pack 8.7 for partners and customers using Milestone XProtect video solutions. The device packs, released every other month, contain software updates supporting new hardware. These updates are rooted in demands from the partner community. Thanks to the foundation of true open platform technology, Milestone adds new device support and functionality for the XProtect portfolio at a rapid pace.
Resource savings with Axis' Zipstream technology
This Milestone Device Pack also includes support for the newest version of Axis' Zipstream technology, an advanced compression technology enabling variable compression as well as variable bit rate. According to Axis, this compression technology can reduce the needed bandwidth up to 50% without major loss in picture quality for compatible Axis cameras.
This technology increases compression when less movement is detected in the video. Beyond reducing the bandwidth, the use of advanced compression technologies like Zipstream can also save disk space on the recording servers in a system. Milestone VMS has been supporting advanced compression technologies since 2012 and constantly adds new technologies.
More than 200 Axis cameras have been validated with the latest XProtect firmware in order to ensure the highest degree of system security.
Other release highlights
Also in Device Pack 8.7, almost 100 new Dahua camera models have been added to the portfolio including a series of NVRs and new 4K cameras. All the new supported devices are ONVIF-based and tested by Dahua.
Milestone works closely with manufacturers in the Camera Partner Program (CaPP) to achieve optimal interaction between their devices and XProtect VMS. As part of the Milestone CaPP, ONVIF functionality testing can be done by Milestone or the vendors, who can do the testing in their own facilities after completing a four-day Milestone training class. The ability to do the complete Milestone ONVIF certification test saves time and costs for camera manufacturers in their go-to-market strategy.
Beyond the added cameras in this Device Pack, new features related to easy system connection and configuration have been introduced for selected Milestone Husky NVRs. These features enable automatic setting of IP address and NTP/time settings.
Milestone XProtect Device Pack 8.7 is available now for download from www.milestonesys.com/support/download-software/