Get Excited about Boring Lab
Monday, 18 May 2020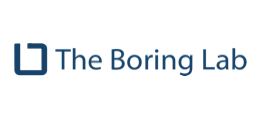 Take the monotony out of deploying and managing your site with Boring Lab's powerful application that enables a faster, more secure installation and life cycle management across your security sites. Boring Lab also enables new business opportunities through predictive maintenance and compliance.
Start your free 30-day trial now!
The Boring Toolbox by The Boring Lab was built and designed by integrators for integrators. At Boring Lab we understand the life of an integrator. Whether you are the technician onsite ensuring a smooth deployment and overall system health or at the executive level looking for more efficient ways to serve your customer and increase margin: the Boring Toolbox is for you.
Why Customers Get Excited
Customers who have made the decision to manage their video with Milestone Systems have already made a careful and prudent business decision. Part of that business decision is unlocking the power of the open platform which includes the Boring Toolbox - exclusively built for the Milestone XProtect product suite. It's a tightly integrated solution vetted by Milestone Systems for instant uptime and a no-surprise install.
No matter what sector a customer is in, they have to adhere to video retention laws set at the corporate, local and state level. The Boring Toolbox has often been cited as 'paying for itself' just based on how easy it is to follow compliance regulations. Simple to produce and even easier to read, the Boring Toolbox one-click report provides data to audit system configuration and exclusive final-say customer sign-off documentation.
Time and time again, customers cite reliability and cost-effectiveness as the top two priorities in their security deployment. Self-maintaining end users love the perpetual licensing options (and system integrators love the option of perpetual licensing or using subscription licensing for a one-time use at single site or per-month, per activation of client).
Why Integrator Technicians get Excited
The Boring Toolbox was designed with the field technician in mind. Let's face it, deploying and maintaining a security system can be tedious and downright boring; take it from our experience. Boring Toolbox takes real, actionable items and simplifies them, saving time and money. Some examples are the most time-consuming tasks such as renaming cameras, creating device groups based on model, password syncing and other bulk configuration operations, while strengthening cybersecurity with powerful password management. To be sure, this is easier on the Milestone Systems Admin, but it also frees up time to be proactive about the overall system health using the Boring Toolbox dashboard.
Customers often ask about the immediate return-on-investment (ROI) when the real question that needs to be asked is the total-cost-of-ownership (TCO) over the life of a system. Local and global dashboards give real-time data on the entire system, resulting in greater uptime and a proactive approach to servicing your customer. This is true across multiple sites in any environment be it federated, interconnected, or stand-alone.
Your admin will thank you for making their life less boring, and your customer will thank you for being one of the most responsive and efficient companies they have ever worked with.
Why Channel Partner Decision-Makers get Excited
The Boring Lab is sold exclusively through channel partners that are certified to sell Milestone XProtect video management software. Decision-makers in the security industry at the integrator level are constantly worrying about their revenue stream and rightly so. The Boring Lab integration with XProtect will save money by saving your most valuable asset: time. Reducing onsite time by hours if not days saves you and your customer money while improving quality.
Reducing manual labor hours is saving money, but Boring Labs can also create money. By using the system health dashboard, it can help create a predictive maintenance pattern that turns into a recurring revenue model, understanding up/down time on cameras and how to best manage storage capacity. One-click reports can prove increased efficiency and greater security systems uptime for your customer further solidifying your partnership.
One of the Boring Lab missions is providing a valuable tool that helps channel partners win more business. All features and functionalities are created with the security RFP in mind. Set your company apart by having more availability and answering yes to more proposals.
Ultimately set yourself apart through increased business opportunities and an elevated commitment to service excellence.
Relevant links: