Arcules - XProtect Hybrid VMS Solution NOW AVAILABLE!
Tuesday, 21 January 2020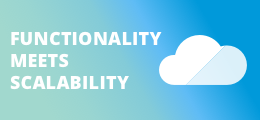 The Arcules VSaaS integration with XProtect on-premise VMS is the first step in Milestone's journey to provide an answer to the increasing interest in cloud-based VMS solutions. This first version provides a flexible and feature-rich hybrid video surveillance solution ideal for organizations looking to centralize their dispersed video surveillance operation.
The solution combines the best of both worlds: the scalability of VSaaS and the functionality of on-premise VMS. It is designed to provide a fast way of deployment with minimum IT resources and downtime. By using VSaaS to deploy remote sites, users can reduce their capital investment and better control their operational costs due to flexible pricing schemes and minimal hardware requirements. By using on-premise VMS at headquarters, users can benefit from the strong capabilities that XProtect has to offer.
Once deployed, customers can gain uniform access to live video, recordings and alarms across cameras connected physically on-premise and virtually via the Arcules cloud through XProtect Smart Client, XProtect Smart Wall, and the web and mobile clients. In addition, the underlying cloud architecture also means that sites and cameras connected to the Arcules VSaaS service benefit from low latency, data encryption and global back-up, automatic updates and compatibility between sites, streamlined maintenance and easy onboarding due to Arcules' intuitive platform.
The solution is built on Google Cloud Platform and uses Milestone Interconnect™ technology as the bridge between the VSaaS-deployed remote sites and the on-premise-deployed headquarters. XProtect Corporate 2020 R1 or later is required for successful deployment together with the Arcules Connector Plugin which facilitates the connection between the VSaaS and on-premise systems. The plugin is free of charge and can be found together with further information in Milestone Marketplace.
Arcules-XProtect Hybrid VMS Solution also adds value to monitoring stations and law enforcement organizations that use XProtect as their VMS platform. Such organizations can now access cameras and customers subscribed to the Arcules cloud service directly from their on-premise XProtect system.
The Hybrid VMS Solution is now commercially available in North America and in Europe. Other regional availability is based on market demand conditioned by datacenter availability and/or the possibility to utilize datacenters in other regions.
To introduce the solution to the market, Milestone and Arcules are launching a joint campaign. By utilizing this campaign, end-customers can obtain Milestone Interconnect Camera Licenses free of charge for the Arcules VSaaS cameras connected to their XProtect Corporate VMS system.
This limited campaign offer is available until November 30, 2020, and available to end-customers who sign up for minimum 12 months service operation with Arcules VSaaS.