Sell and deploy more solutions based on our open video management platform
Tuesday, 12 February 2019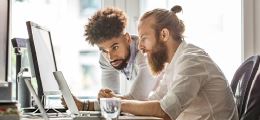 Author: Toyah Hunting
Partner News
The Milestone Technology Partner Program combines Milestone's existing camera, solution, technology, system builder and design partner programs in one overall program.
This is to leverage the wide set of partner technologies that complement and extend the Milestone XProtect video management platform. A broader set of documented and verified partner offerings increases your ability to create industry-specific and verticalized solution bundles, while reducing design and deployment efforts. So that you can improve margins and reduce risk.
The Milestone Technology Partner Program includes hardware and network infrastructure offerings, cameras and IoT devices to applications and different types of systems such as access control, building management and Physical Security Information Systems (PSIM).
The program aims to stimulate communication and cooperation within the community of System Integrators and Technology Partners, enabling business through both physical events and through Milestone Marketplace.
In short, this program can make us all more effective, provide us with access to more solutions and shorten our time to market.
What the Milestone Technology Partner Program has to offer:
Discover how compatible applications, hardware and services can help solve a specific need
Meet specific project needs or expand your business in specific industries and verticals by creating solution bundles. Thanks to the accelerated co-innovation between Milestone and the Technology Partners, you have better chances of winning and maintaining end-customers over time.
Reduce your risk and deployment effort
These thoroughly documented and verified partner offerings reduce upfront design and dimensioning, as well as time required to deploy the solution.
Use Milestone Marketplace to connect directly with Technology Partners, find documentation, proof of concept, and customer reviews
As a System Integrator, you always have product information installation guides, customer references and contact details readily available whenever you want to make direct contact with the Technology Partner.
Check out all our Technology Partners on Milestone Marketplace