The New XProtect Sales Kit Is Here
Saturday, 30 November 2019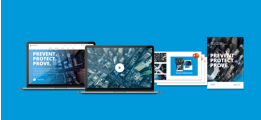 XProtect: Prevent. Protect. Prove.
Have you ever found yourself struggling to explain to a potential new customer what a video management software system is? Then you'll want our new XProtect sales kit.
Filled with powerful sales tools, the kit will help you get your customers excited about XProtect. Showcasing the value of XProtect is the most important step toward closing the deal.
With the new XProtect sales kit, you get:
A new XProtect website designed for end-customers unfamiliar with the XProtect products. The site explains in a non-technical, easy to understand language the true value and benefits of XProtect video installations.
A brand new "product recommendation" wizard designed to help end-customers select the XProtect solution best suited for their need. The wizard is included in the new website.
A new end-user friendly brochure introducing XProtect and the different XProtect products. The brochure also explains how XProtect best meets their needs.
A sales presentation to make it easier for you to present and sell XProtect to your customers.
A new XProtect video intended to capture attention and increase awareness of how
XProtect helps customers protect, prevent, and prove!
At Milestone, we want to make it easy for you to find what you need and to be successful in your business dealings. That's why we've created the sales kit and why you can find all XProtect materials in one place. Check out our new Collection here!