Limited Offer on Actionable Intelligence
Friday, 1 November 2019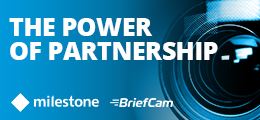 The Power of Partnership
Get even more out of your video Surveillance solution by transforming unwatched video into real-time, actionable intelligence. A powerful duo, BriefCam's best-in-class Video Analytics seemlessly integrated with Milestone's XProtect® provide low touch deployment for system integrators and rapid time-to-value for end users when combined with BriefCam RapidReview starter kit for XProtect a new product offering from BriefCam.
BriefCam RapidReview Starter Kit for XProtect in Short
Pre-configured and certified BriefCam hardware appliance with BriefCam RapidReview software
Seamless, out-of-the-box integration with Milestone XProtect for on-demand and scheduled video processing, powerful and intuitive user interface including comprehensive integration with the XProtect client, and administration tools
Full access to BriefCam's cloud based LMS for self-training and certification
Save Time and Money
We have put together a great offer to celebrate the launch of the RapidReview starter kit for XProtect.
Combine buying a new Milestone XProtect® license (Professional+, Expert or Corporate) and a BriefCam RapidReview Starterkit for XProtect and save 50% on RapidReview software. The offer is available to new customers only. The offer is limited to the first 40 purchases or first 2,000 licenses, whichever comes first. So, it's a first come, first served deal. Offer expires Dec. 31, 2019.
Learn More
If you'd like to study the details of the campaign including how to secure your discount voucher or learn more on the value of the new RapidReview Starter Kit, you'll find Milestone campaign flyers and a Milestone communication plan as well as a BriefCam provided solution brief, and a product presentation on Content Portal.