Dell and Milestone help you win large-scale projects
Saturday, 31 December 2016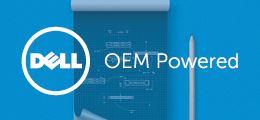 Author: Toyah Hunting
Partner News
The Dell/Milestone Reference Architectureexplains how you can configure XProtect® Advanced VMS to work together with Dell servers to get the most optimal performance.
It removes the guesswork by providing a proven template that has been thoroughly tested in actual surveillance environments.
It contains precise configurations that you can use to get the best performance out of the hardware and software when they are working together.
It is also an excellent guideline for future projects, as it is a fully-tested installation that can be scaled to meet the needs of large projects.
Three key benefits of this Reference Architecture
It means you can offer a more competitive proposal when bidding on large-scale projects. We win more business by offering a solution that outperforms the competition.
It removes the guesswork from bid processes. You can go in and offer a thoroughly tested, proven configuration that is a partnership between two industry leaders.
You can offer a lower total cost of ownership where customers can get the same performance from less servers.
What does it include?
Dell and Milestone collaborated in optimizing solutions for large-scale environments. The results are included in the Reference Architecture. The tests were initially performed on the Dell R730XD platform with different configurations, and optimized to work with 300, 500 and 700 cameras. Based on the data from the base platform (the Dell R730XD), we could extend the reference architecture to the other products in Dell's portfolio, so you have a series of optimized configurations that will work with a wide range of Dell's hardware.
In terms of performance, the reference architecture has been calibrated to intake up to 700 1080p camera feeds, recording at 3.1 Gbit/s throughput, with a playback at 310 Mbit/s with zero frame loss.
his is a performance that is 3-10 times that of competing solutions.

You can download the Reference Architecture brief from Solution Finder .
Test it at a Dell Solution Center
One of the unique features of this collaboration is the Dell Solution Center. Dell Solution Centers are a network of technical centers located in key sites around the globe. They enable you to demonstrate first-hand to the customer how the solution will perform in their environment. You can use the Dell Solution Center for proof-of-concept meetings with customers, and these can be done either on-site, at one of the centers, or remotely.
Contact Partner@milestonesys.com to make sure that a Solution Center session is the right approach for your project.