Get ready for the first Product Update of 2017!
Saturday, 31 December 2016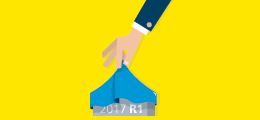 Author: Kimberly Sallingboe
Product News
The first Product Update of 2017 continues our focus on lowering the total cost of ownership for the Advanced VMS segment. Starting February 15, 2017, we're introducing an innovative technology that moves video decoding for video motion detection from the CPU to the GPU, enabling customers to run more cameras per server. Coupled with the software decoding introduced last year, the hardware accelerated VMD will also significantly reduce the load on the CPU and improve the performance of the recording servers.
Our test results show incredible system improvements and we can't wait to share them with you. This level of performance, together with the significant reduction in TCO, will put you in a fantastic position to bid on and win large-scale installations. So get those order books ready, it's going to be a great year.
Additional updates
The upcoming product update will also include:
We have listened to your feedback and responded quickly by removing the subscription packs on XProtect® Essential. Starting February 15, XProtect Essential will be free for 8 cameras and customers who want more cameras or Care Plus should go with XProtect® Express. We will work with you to inform customers who have purchased subscription packs and help them define the next steps for their installation.
We are extending the Essential Campaign until March 31, 2017, to help existing Essential Users transition to Express.
The Milestone Husky M20 versions will ship with rack rails for the same great price
Full product update details will be included in the February Business Partner Update, so stay tuned!