The Milestone Husky™ M20: The easiest installation ever
Tuesday, 4 October 2016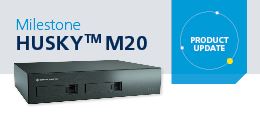 Author: Kimberly Sallingboe
Product News
About the Husky M20:
Available in 8- or 16-port variations
The 16-port supports up to 24 cameras
Optional integrated PoE managed switch
Comes with a pre-loaded, NVR-optimized version of XProtect® Professional 2016
The easiest installation ever
When catering to the mid-market segment, we realize that it's important for our resellers to offer a proven solution they can trust. Their customers are counting on them, and resellers want to repay that confidence with a smooth, uneventful installation process. They want to be confident that everything will work the first time, and that when they leave the customer, they won't be bombarded by calls or complaints because the system isn't working as it should.
The Milestone Husky M20 is the product for resellers looking to build trust with their customers. It offers installers the easiest, most predictable installation process in the industry. The M20 is the shortest route to give end-customers an all-in-one surveillance solution.
Consider the facts
The Husky M20 offers:
Reduced deployment time with integrated Power over Ethernet (PoE) managed switch
A smooth installation process with Smart Start – a series of plug-and-play features that help installers connect cameras and configure storage with ease.
A predictable installation with no guesswork. We handle the majority of the set-up process, so installers get the same good results, every time.
The NVR end-customers want
The new Husky M20 also offers customers a high-performing NVR at an attractive price point.
Customers benefit from:
Replaceable hard disk drives, which help minimize downtime when replacing storage
200 Mbit/s recording rate, which can handle the latest megapixel cameras
6th generation (Skylake) Intel® motherboard and processors, which provide high performance local viewing and playback
This one is literally going to fly off the shelves. Start stocking it today.
Related downloads
Husky M20 Product Specification Sheet
Get it now
EMEA: purchase@milestonesys.com
Middle East: dxbsales@milestonesys.com