Explore the Power of Video
Monday, 7 October 2019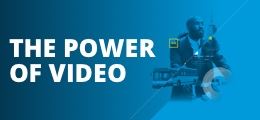 Author: Tue Ingemann Paarup
Event News
Today, using video and video technology, we are able to optimize traffic in the biggest of megalopolises, prevent crime before it happens, and protect endangered species in even the most secluded areas of the planet. Used responsibly and for the good of (wo)mankind, video has the power to significantly increase well-being and quality of life. For basically all living beings on this green globe we call home.
With the launch of the Power of Video campaign, we celebrate the many amazing opportunities video presents. Incorporating a series of events throughout EMEA and a brand-new, high-level promo video, Power of Video targets tech partners, integrators, and end-users alike.
Together with Axis, Dell, and Intel we invite you to a roadshow across Europe and Middle East where we discuss modern video technology and together explore how it can help overcome business challenges in retail, transportation, and safe city.
The campaign is a first of its kind. We're super excited and hope you'd like to join the conversation by signing up for one of our October events. Feel free to bring along one or more of your clients. We're an open community, so everybody is welcome.
Still on the fence? Watch VP EMEA Malou Toft explain how looking at the world like the mantis shrimp means making better and faster decisions here. You'll never look at the world the same way again.