Innovation: what does Milestone have in store for you?
Sunday, 2 September 2018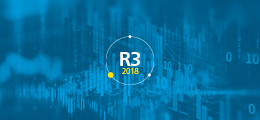 Author: Toyah Hunting
Product News
At Milestone, we are proud of our constant quest to improve our VMS product offering, so that you and your customers can continually benefit from improved capabilities and leverage the latest technology.
Here's what's coming in our 2018 R3 Product Update, available October 2.
Let your ears complement what your eyes are seeing
Adding to the existing two-way audio support in XProtect Smart Client, remote users can now enjoy one-way audio in XProtect Web Client and remotely add an additional dimension to the video by enabling the ears to compliment what the eyes are seeing.
Documentation is king
Quickly identify and document historical system activities and user interactions in the system with the new and improved edition of the Log Server that delivers fast, flexible and intuitive browsing, filtering, searching and display of log entries. This enables you to professionally identify, investigate and document what has happened in the system.
Make the most of your surveillance cameras
Most modern-day surveillance cameras are shipped with advanced analytical functions like motion detection, temperature detection and perimeter protection. These camera functions generate events; with the versatile Rule Engine in the XProtect VMS, these can be used to trigger various actions like starting and stopping recordings, manually or automatically. With the 2018 R3 product version and the upcoming Device Pack 9.9, users can benefit from an extended event list allowing them to make use of all the event features the camera has to offer. This improvement starts with Axis cameras, enabling the Axis Camera Application Platform (ACAP) to work even better with XProtect.
Get a full overview of everything that's included in the upcoming 2018 R3 release