Build your Milestone knowledge and boost your business
Tuesday, 31 July 2018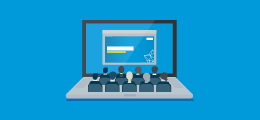 Build your Milestone knowledge and boost your business
The Milestone Systems Americas team is happy to announce the monthly webinar series. On Fridays we cover a variety of topics ranging from sales tips to technical setups.
Here are some of the webinars you can sign up for in the coming months:
Global Security Exchange (GSX) 2018 – what can you expect from Milestone at the show
August: Smart Client Workstation Design & Best Practices
September: Maps & Smart Maps
Cyber Security Best Practices: Brute Force Attack
Operating with sufficient cyber security awareness and preparedness begins with relevant education on the subject. We welcome you to join part 3 of the conversation in our multi-part webinar series on Cyber Security Best Practices. We will be discussing how to build policies to help your organization effectively protect against a brute force hacking attack. Join the Americas team to learn build your Milestone knowledge.