Milestone Systems vergibt Awards für starke Partnerschaften
Thursday, 2 November 2017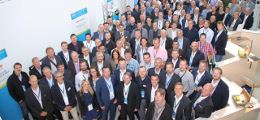 Author: Katharina Webster
FEATURE NEWS
Milestone Systems vergibt Awards für starke Partnerschaften
Mit dem Modell der Offenen Plattform zu optimalen Sicherheitslösungen
MÜNCHEN – 1. August 2017. Milestone Systems, weltweit führender Anbieter von Open Plattform IP-Videomanagementsoftware (VMS), verfolgt mit seiner Open Platform Community ein Modell, das starke Partnerschaften und enge Zusammenarbeit erfordert und fördert. Gleichzeitig ermöglicht die Partnergemeinschaft aber auch optimale und individuell zugeschnittene Sicherheitslösungen – unabhängig von Branche, Anforderungen und Umfang der Videoinstallationen.
Um den Community-Gedanken im nationaleren Rahmen zu stärken, veranstaltete das Unternehmen auch in diesem Jahr wieder die Milestone Partner Open Platform Days (MPOP). Das Event fand am 13. und 14. September 2017 in der Therme Erding bei München statt. Über 200 Teilnehmer besuchten die MPOP – ein gemeinschaftliches Event von Milestone Systems Deutschland und Frankreich. Um Den Community-Gedanken zu betonen und sich bei seinen starken Partnern zu bedanken, hat Milestone Systems im Rahmend der MPOP sogenannte Parter-Awards verliehen. Die Gewinner waren: AXIS Communications (Solution Partner of the year), ÖWD Security & Services aus Österreich (Partner of the year), Nutz GmbH (Newcomer of the year) und AVS Systeme AG aus der Schweiz (Project of the year).
| | | |
| --- | --- | --- |
| | | |
| | | |
| | | |
Lesen Sie mehr über die positive Resonanz zur MPOP DACH/France 2017.
Um diese Partnerschaften auch international zu stärken, veranstaltet Milestone einmal jährlich die Milestone Community Days (MIPS). Im Rahmen des Events werden Milestone-Lösungspartner, Integratoren, Wiederverkäufer und Händler in der EMEA-Region zusammengebracht. In diesem Jahr fand die Veranstaltung in Dubai statt. An vier besonders starke Partner hat das EMEA-Managementteam von Milestone Partner-Awards verliehen.
Sie sollen den Community-Gedanken stärken und die Zusammenarbeit besonders wertschätzen. ELA-Soft: Milestone Solution Partner of the year Die enge Zusammenarbeit mit dem deutschen Unternehmen ela-soft GmbH und deren Gebäude-Management- und Organisations-System (GEMOS) ermöglicht es Milestone Systems, über 750 Subsysteme wie Feuermelder, Zutrittskontrollen oder individuelle Notfallsysteme in ein Videomanagementsystem zu integrieren. Nedap: Milestone New Solution Partner of the year Um im Bereich der Zutrittskontrolle eine nahtlose Integration zwischen Sicherheitssystemen garantieren zu können, setzt Milestone Systems seit 2016 auf eine enge strategische Partnerschaft mit dem niederländischen Unternehmen Nedap. Dell: Milestone Outstanding Solution Partner of the year Die Sicherheits- und Überwachungsbranche unterliegt einem Wandel, der weg von analogen Installationen und hin zu immer mehr IP-Lösungen führt. Kunden fragen nach Hardware-Lösungen mit integrierter und vor-installierter Software. Deshalb haben sich Milestone und Dell zusammengeschlossen, um eine gemeinsame Lösung anzubieten, die Kunden die VMS-Installation vereinfacht. Icetana: Milestone Beyond Security Award Mit der Partnerschaft zwischen Milestone und dem australischen Unternehmen Icetana wird die Voraussetzung dafür geschaffen, umfangreiche Überwachungsfunktionen in effektive Live Monitoring-Systeme umzusetzen, um in Echtzeit Videoauswertungen zu erhalten. Das ermöglicht eine sofortige Reaktion auf außergewöhnliche Situationen, bevor diese eskalieren können. Zudem stellt eine zentrale Verwaltungsschnittstelle sicher, dass die einzelnen Auswertungsergebnisse logisch miteinander verknüpft werden. Das Modell der Open Platform Community ist das Markenzeichen von Milestone Systems und stellt gleichzeitig die Basis für bestmögliche Videoüberwachungslösungen dar.
Über Milestone Systems: Milestone Systems ist ein global führender Anbieter im Bereich der Open-Platform-IP-Videomanagementsoftware. Das Unternehmen wurde 1998 gegründet und ist heute ein unabhängiges Unternehmen in der Canon Group. Die Technologie von Milestone lässt sich leicht verwalten, ist zuverlässig und hat sich bereits in Tausenden von Kundeninstallationen bewährt. Zudem unterstützt sie eine flexible Auswahl an Netzwerk-Hardware und eine Integration in andere Systeme. Die Lösungen von Milestone werden über Partner in über 100 Ländern vertrieben und unterstützen Organisationen dabei, Risiken zu verwalten, Personen und Vermögenswerte zu schützen, Prozesse zu optimieren und Kosten zu senken. Die Netzwerkvideorekorder und Videomanagmentsoftwarelösungen von Milestone Systems verfügen über die UVV-Kassen Zertifizierung, wodurch sie in Deutschland bei Banken und für öffentliche Ausschreibungen eingesetzt werden können.