Get ready for the first Product Update of 2017!
Saturday, 31 December 2016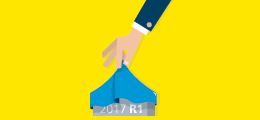 Author: Kimberly Sallingboe
This new release features new enhancements to the XProtect Advanced VMS, increased functionality in the viewing clients and important updates to the product portfolio.
XProtect 2017 R1 continues focus on lowering TCO
The 2017 R1 version of our XProtect Advanced VMS will feature the addition of hardware accelerated video motion detection ideal for large-scale installations. In a nut shell, this innovative technology enables customers to run more cameras per server, resulting in a lower total system cost. This is why we believe the hardware accelerated video motion detection will set new standards in the industry and enable your resellers to be more competitive offering a Milestone solution.
This release also focuses on increasing cybersecurity for large installations by enabling:
Two-factor authentication for XProtect® Corporate, when using the XProtect® Web Client and Milestone Mobile
Improved control of user access to the viewing clients by granting user permissions on the client level
What's happening on the NVR side?
The Milestone Husky™ M20 has been a very popular NVR. To offer even more value to customers, the Husky M20 will now ship with rack rails included for the same great price.
Update your price lists
With the release of XProtect 2017 R1, we are also removing the subscription pack option for XProtect® Essential. Going forward, Essential will be a true free product with support for up to 8 camera licenses. Customers needing more than 8 cameras should go with XProtect® Express. Although this change officially goes into effect on February 15, 2017, we would encourage you to remove the subscription pack SKUs from your price list immediately. We are extending the Essential Campaign until March 31, 2017, to help existing Essential Users transition to Express.
Be sure to check out the February Business Partner Update for the full introduction to the 2017 R1 Product Update.
Get the Q4 2016 Price List Addendum to update your system