Two new products to help you conquer the mid-market segment
Monday, 8 May 2017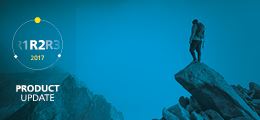 Author: Kimberly Sallingboe
Product News
On June 8, 2017, we're launching two new products: XProtect Express+ and XProtect Professional+. The new products will complement our existing VMS product portfolio and will be introduced as part of a series: the XProtect Express series and Professional series.
What you need to know about the new products
Here's a brief overview of everything you need to know about XProtect Express+ and XProtect Professional+:
They are built on the same high-performance technology as our XProtect Advanced products XProtect Corporate and Expert.
Customers get access to the latest product innovations built on a platform on which they can seamlessly grow their installation over time. Upgrading from the +products to XProtect Corporate or Expert takes less than 30 seconds.
You will find all new associated SKUs and pricing in the price list here
Why are we introducing new products?
For the past 10 years, we have invested heavily in research and development, working tirelessly to make our Advanced VMS the highest-performing VMS engine for complex, business-critical installations.
According to industry figures, the business-ready market will account for more than half of the total video management software market. This means that there are huge opportunities within the low-to-mid-market segment and we want to help you be even more competitive in this space.
That's why we are now bringing the benefits of our high-performance software to the low- to mid-market customers, so installations of every size and need can benefit from the last 10 years of innovations.
XProtect Express+ and XProtect Professional+ give customers access to a wide range of features that will help them take advantage of the latest camera technology, reduce the overall total cost of ownership of their installation and easily upgrade their systems if they want to move to an Advanced VMS product.
What do the new products have to offer?
XProtect Express+ and XProtect Professional+ offer integrators a number of advantages:
Reduce total system cost with hardware accelerated Video Motion Detection (VMD). Offer customers a higher-performing system at a lower total cost thanks to the CPU load reduction that makes it possible to add more cameras per server than ever before.
Set-up new systems quickly and easily. Configure several cameras, roles and users simultaneously, saving time on installation and deployment.
Help customers be more efficient. You can set up the system so that certain device configurations are changed automatically when a specific event is triggered in the system. For example, you can tell the system to record at a higher framerate if a door is opened after hours.
Stay on top of customer installations and offer round-the-clock support. With these products, you can send messages to Milestone Customer Dashboard based on any system event. For example, be notified when a system is running out of storage space or when motion is detected outside of office hours. You can be proactive in managing installations and keep an eye on what matters to your customers.
Manage installations remotely. You can manage your XProtect Express+ and Professional+ systems through a single interface that can run directly on your laptop.
Document your deployment. With configuration reports, you can make sure that all applied system configurations and camera view-zones are documented.
Click here to find out everything you need to know about the new products
Download XProtect Professional series Flyer
Download XProtect Express series Flyer
Get ready for June 8
To help you quickly get up to speed and prepare yourself for June 8, we've prepared a whole series of eLearning courses that explain how to work with these new products. The eLearning courses are free and you can take them whenever it's convenient for you. Why not start now, so you're ready to hit the ground running when the new products are available?
Start eLearning now

Getting Started with XProtect VMS
Exploring XProtect VMS Components
Navigating the XProtect Advanced Management Client