6,000 reasons to choose Milestone
Saturday, 31 December 2016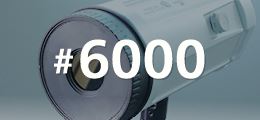 Author: JOS. Svendsen
Partner News
Award to Axis Communications for supported device number 6,000
AXIS Q1942-E PT Mount Thermal Network Camera is Milestone-supported camera number 6,000.
This thermal camera highlights a growing trend in the industry. The ability to see infrared light is much more than being able to see in the dark. This type of camera is an ideal sensor for video analytics. It can enable trouble-free people counting or more advanced analytics, such as using vehicles' heat signature to determine the average parking time for vehicles in a parking lot.
The award was received by Axis Communications at the Milestone Integration Platform Symposium (MIPS) Americas held in San Antonio, Texas in mid-February.
"Axis are delighted to be awarded the 6000th camera supported by Milestone. Axis and Milestone have been partners for many years and this award shows the depth of integration that Milestone has for our products." Doug Adams, Business Development Manager ADP and TPP, Axis Communications Northern Europe.
Other highlights in Device Pack 9.0
Arecont
More than 50 new cameras from Arecont are included in this device pack, including the 180-degree Surround Video 5MP camera with Arecont Stellar low light option and the new 4K dome camera including features like remote focus, P-iris, Day/Night, casino mode and IP66 rating.
Oncam
Nine cameras from the Evolution series have been integrated in the release. The 360deg 12 MP cameras with in-camera dewarping is the highlight of the Oncam integrations.
Milestone dedicated to quality ONVIF Support
Milestone works closely with device manufacturers in the Camera Partner Program (CaPP) to achieve optimal interaction between their devices and the XProtect® VMS. The same rigorous testing applies to driver standards like ONVIF.
Before ONVIF-supported devices are listed in the supported hardware list on milestonesys.com, they have been tested to ensure 100% functionality with the XProtect open platform technology. This enables the Milestone Community to pick the best devices for their end-customers from the market's broadest selection and be assured of the functionality of any supported device.
"ONVIF is not just ONVIF. We ensure that all devices we list as supported are tested and certified with the exact ONVIF-version. Only by doing this can customers and integrators be assured the full functionality of ONVIF-devices." Says Henrik Sydbo Hansen, Group Manager, Devices & Integrations, Milestone Systems. "We are fully transparent in this certification, and believe that we are leading the industry here."
Download Milestone XProtect Device Pack 9.0