Get a first peak at our first release of 2018
Monday, 8 January 2018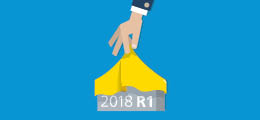 Author: Toyah Hunting
Product News
We strive to remain at the forefront of technology, leading the VMS market in terms of performance and quality. This is what you can expect from our February 20 XProtect R1 2018 release:
Hardware accelerated video decoding on the Smart Client using multiple NVIDIA cards
Display more streams in high resolution without putting an extra load on the CPU
Most VMS systems can only utilize the built-in Intel card, putting all the necessary load for decoding video in the Smart Client on the CPU. By harnessing the power of multiple NVIDIA graphic cards with XProtect, we make it possible to shift the load from the CPU to the GPU, resulting in an unparalleled ability to display more high-resolution cameras on the Smart Client as well as use more HD screens for display or as part of the Smart Wall function. All without putting any extra load on the CPU. This is a way to get more out of an installation while making resources available for other tasks.
Privacy masking
Protect your privacy without compromising security – at no extra cost
With privacy regulations changing widely depending on the type of installation and geography, this privacy masking feature makes it easy to cost-efficiently maximize security without compromising privacy. It allows both permanent and liftable masks, in live and recorded streams - managed efficiently with user-credentials. It supports an unrestricted number of cameras and puts no extra load on the CPU. At no extra cost.
DLNA (Digital Living Network Alliance)support II
Carousel and rule-based video directly on your TV
DLNA support is a unique feature offered by XProtect, available as of R3 2017. It allows users to connect their VMS to any DLNA-supported TV and display video captured from cameras without a computer or Smart Client. This is particularly valuable for retail installations that need to display video from a certain area in an easy, simple and affordable manner, with minimum equipment required. R1 2018 introduces a carousel mode, allowing the user to switch between a selected set of cameras. It also allows a rule-based camera selection that enables the user to display video from a camera directly when an event such as motion detection occurs.
One-click installer
An easy installation for the single server installer
Single server installations can now configure XProtect faster and easier already during installation. With automatic device detection and retention-time configuration, customers can use their hard-drive space more efficiently than ever.
Legacy Device Pack
Faster and more efficient drivers download for commonly used cameras
XProtect supports over 6,000 cameras and devices. To avoid having large and download-heavy device packs, we will now split the device pack into a Main device pack with drivers for the most commonly used devices (including new ones added every other month) and a Legacy device pack with drivers for cameras that are older and less used. This is another step forward towards a faster download and a great user experience.