Milestone Community Days (MIPS) can help grow your business
Monday, 8 January 2018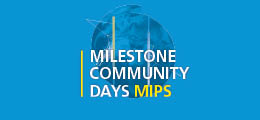 Author: Toyah Hunting
Event News
How can we combine human and machine intelligence to solve challenges that face our world today while growing our business?
Technologies are evolving, neural networking and machine learning amongst others. This step into the world of intelligent video is not one any VMS manufacturer can take alone. There is a need for highly specialized knowledge and new specialized services.
Our open platform technology is the foundation for intelligent video systems and you, our partners, have the expertise and infrastructure needed to reach the next frontier in intelligent video solutions. Together, we can provide unlimited solutions for our customers.
Join the discussion around an intelligent world for tomorrow at Milestone Community Days (MIPS) 2018.
Will you be joining us?
Take a sneak peek at our lineup of speakers and stay tuned for more speaker announcements:
The technology game-changers impacting our industry
Bjørn Skou Eilertsen, Chief Technology Officer
How do we combine the efficiency of machine intelligence with the quality of human judgement? Disclosing Milestone's future technology direction and incorporating partner examples, Eilertsen will show us how artificial intelligence and GPU technologies are changing video technology as we know it.
How the intelligent world changes our business
Kenneth Hune Petersen, Chief Sales and Marketing Officer
New intelligent systems mean new market segments. And they are growing fast. Do you know which business decisions you need to make to score a share of the new markets? Find out how Milestone enables the community to realize the opportunities in intelligent systems quickly and efficiently.
Accelerate your technology investment by building solutions that suit your needs
Jesper Just Jensen, Vice President, Products
Jesper Lachance Raebild, Director, Product Marketing
What does co-creation mean for Milestone's product development? This is where you learn about Milestone's product and platform initiatives for 2018 and beyond. Hear news on Milestone Community Kickstarter Contest 2018, an innovation contest that invited coders and developers to come up with integration ideas that push the boundaries of video management.
Bringing solutions to market as a community
Kirsten Højland, VP Marketing
Louise Østergaard, head of eCommerce
How can you as a Milestone partner get better exposure and more sales opportunities? Hear about how Milestone is enabling the community to bring solutions to existing and new markets faster and more efficiently – including news about Milestone's upcoming market place.