Updates to the Husky™ series
Saturday, 31 December 2016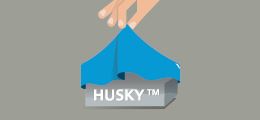 Author: Toyah Hunting
Product News
Now up to 12TB of storage
Due to market feedback for more storage capacity on our popular Husky M20, we are excited to announce a new Husky M20 with 12TB of storage. Benefits include: more HD cameras and longer retention time. Units available to order mid April 2017.
Extended support up to 32 cameras
Along with the new M20 product variant, we are excited to announce that all Husky M20s now support up to 32 cameras. This is already reflected in the Husky calculator available on our website. Support for more cameras per Husky M20 means you can use less units per project, resulting in lower costs.
System recovery drive
In mid April, all new Husky M20 units will be shipped with a recovery partition, making it easy for you to service and troubleshoot potential drive issues. A recovery partition on the mSATA drive makes it possible to rebuild, restore and troubleshoot any problems with the M20, helping keep the system up and running.
Up to 64 TB of storage
Starting mid-April you can order a 64TB Husky M50, expanding the storage possibilities in the mid-market.
Download Husky M20 product sheet
Download Husky M50 product sheet
Download Husky comparison chart
Download Husky M20 pricing addendum in DKK
Download Husky M20 pricing addendum in EUR
Download Husky M20 pricing addendum in USD