Safeco stadium 'covers the bases' for security with Milestone IP video
Tuesday, 4 October 2016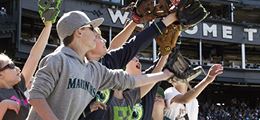 Author: Courtney Dillon Pedersen
Case Story
Since July 15, 1999, Safeco Field has hosted Major League Baseball's American League Seattle Mariners in the state of Washington. In less than 15 years, more than 42 million fans have rooted for the home and visiting teams. The ballpark has had an All-Star Game, two of the 23 perfect games ever thrown (both in 2012), American League Divisional Series, numerous record-breaking games. In addition, Safeco Field has high school and college baseball games, concerts, graduations, parties, corporate meetings, weddings, a 5K fun run and banquets. The stadium has nearly 250 full-time, year-round employees, with that number increasing to roughly 5,000 day-of-game employees for a large capacity game.
With its previous security system more than a decade old, Safeco Field had 114 analog cameras connected throughout the stadium via cable – a large, expensive operation to maintain or replace. The Mariners upgraded their security system in 2013 and continue to add to the system each off-season. Through the upgraded system, they can provide local law enforcement with live camera feeds and recorded video, exported and shared to aid authorities in investigations.
During the 2012 season, as a pilot for the Milestone deployment, numerous cameras were temporarily placed in challenging situations for select games in order to set up a demonstration of the new system. A server was installed in a suite and integrated into the existing analog CCTV network.
Functionality and ease of installation elevate Milestone above others
Milestone Platinum Partner Differential Networks LLC designed, installed and continue to manage a state-of-the-art solution that beat the analog-based solution both on price and functionality.
Milestone and Differential Networks worked closely with the Mariners' IT Department to develop a cost-effective and supportable network design. This enabled the Mariners to provide their own network hardware, the majority of which was already installed, and the ability to partner during the networking phase of the installation. The Milestone solution easily integrated with the existing technology. To integrate the stadium's existing analog cameras with the new IP-based system, Differential Networks installed several Axis and Sony multi-port video encoders.
"The stadium had been getting by with a more or less obsolete DVR system that could not provide fast review of incidents as they were happening. Bringing in a new version of a DVR solution would not have provided the extensive coverage Milestone offers. With the Milestone software, the network load was perfectly acceptable to their IT department, and we now have the capability to increase the security features in the ballpark as we further expand the security coverage," says Bob Kusche, IPVS Security Solution Advisor at Differential Networks.
Milestone ensures critical assets are protected
Protecting the safety of the occupants of the venue and mitigating liability litigation are key requirements
in the Safeco Field security team's role. Incidents at the ballpark that are criminal in nature that are captured on the surveillance network can be exported as needed for investigation and prosecution purposes.
The Milestone solution is open architecture so it can be integrated with additional security features in the stadium, and management is considering connecting with access control, burglar alarms and panic buttons, among others. The options are endless with Milestone open platform technology.
Centerplate, the Mariners hospitality partner at Safeco Field, also upgraded and integrated their analog camera solution into Safeco Field's Milestone solution. This integration saved Centerplate money by merging their video system into the stadium's security network which gives Safeco Field security full visibility into secured areas where they had no access before. With cameras in the stock locations, outside kitchens and cash handling areas, the stadium security and concessions teams are able to work together to tie all cameras into one efficient Milestone-managed system.
A solution with an eye to the future
"One major benefit of the system is the ability to easily add more cameras in the future. Additional cameras and the cost of cabling and installation that used to cost up to thousands of dollars are now not nearly as cost-prohibitive. We can now be smarter with the types of cameras we install with the open abilities of Milestone to support multiple brands and models," says Christopher Markham, Service Account Manager at Differential Networks.
The ability to install flexible, scalable Milestone software on standard servers versus a less capable series of NVRs was the biggest up-front advantage for the Mariners security team. The subsequent ability to use additional features such as mapping or sharing access to cameras with multiple users has helped the Mariners deploy increased security measures.
"Before Milestone, looking for one or two people in a crowd of 47,000 was like finding a needle in a haystack. Today, rather than searching laboriously through game footage of the crowd, we can find and export our video in minutes and find that 'needle' efficiently, keeping the ballpark's guests and assets safe. I'm very happy with Milestone and look forward to successful seasons, on and off the field!" says Christopher Ellis, Director of Safety & Security at Seattle Mariners.
Find more customer stories here