XProtect Is Officially the First VMS Conformant with Four ONVIF Profiles
Monday, 20 April 2020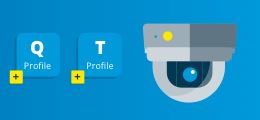 With our 2020 R1 Release, we have expanded our support for ONVIF devices and have now received the official certification for being conformant with ONVIF profiles T and Q, adding to our existing S and G certifications.
This means that XProtect is now the only VMS in the world who is conformant with four ONVIF profiles – and the first VMS altogether to be conformant with the ONVIF Profile Q.
Working with ONVIF is a big part of our open platform approach, thereby making sure we can connect more and more types of cameras and devices into XProtect.
The first VMS conformant with ONVIF profile Q
An ONVIF profile defines a set of features that both the device and software or client must support.
For example, ONVIF Profile Q allows the user to do basic network and user configuration of a camera directly from the VMS - and Milestone XProtect is now the first VMS to be profile Q conformant.
As part of our latest XProtect release, 2020 R1, VMS customers are now able to manage ONVIF devices more quickly and efficiently directly in the VMS – no longer needing to access the devices' own configuration portal.
Read more about the release here: https://releases.milestonesys.com/2020-r1/onvif-devices-configuration/
XProtect now conformant with four ONVIF profiles
We are constantly striving to be up to date with industry standards – especially regarding camera integrations. As our VMS supports more than 9,000 devices, we also need to make sure customers can utilize the value of these devices.
Being compatible with four ONVIF profiles – G, S, T and Q - means that Milestone XProtect customers can now benefit from a smoother integration between their ONVIF devices and the VMS – being able to use more device functions and bring more data on top of video and audio streams.
Learn more about our ONVIF certifications here:  https://www.milestonesys.com/community/business-partner-tools/device-packs/
(anchor to navigate directly to ONVIF section)
Learn more about ONVIF
ONVIF is a leading and well-recognized industry forum whose mission is to provide and promote standardized interfaces to enhance effective interoperability of IP-based physical security products.
In other words, when products are conformant to the same ONVIF profile, systems designers and end users know that they can easily use these products together because they will seamlessly communicate and integrate.
Read more about ONVIF and the conformant products here:  https://www.onvif.org/conformant-products/