GET IT: Device Pack 9.5a now available
Monday, 8 January 2018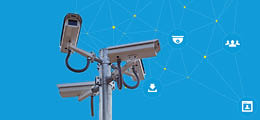 Author: Toyah Hunting
Product News
We are very proud of our device support. In 2017, we announced our support of more than 1,100 new devices – in just one year! Device Pack 9.5a for Milestone XProtect video management software VMS helps the Milestone community design perfect solutions with support for Canon ME20F low-light HD camera, ONVIF profile G edge storage certification and extended H265 support for cost effective solutions.
The Milestone XProtect® Device Pack 9.5a is now available with support for the following new devices and updated support for existing devices:

New firmware support for various devices for the following partners

New feature support
Additional support has been added for specific features on the following devices:
Added support for Absolute PTZ for Panasonic driver for a project in Asia
Fixed issue with edge storage for Bosch
Added support for Hanwha Techwin devices on the new driver
Added support for H265 on new Axis devices
Added support for edge storage on Pelco Optera series
Improved the media2 service functionality in the ONVIF driver.
Ensured official ONVIF certification of the Profile G implementation in the ONVIF driver.
---


New device support
Axis
M2026-LE Mk II, ​P3374-V, P3374-LV, P3374-VE, P3374-LVE, P3375-V, P3375-LV, P3375-VE & P3375-LVE​

Canon
ME20F-SHN

Dahua
DHI-XVR5104C-4M, DHI-XVR5104HS-4M, DHI-XVR5104H-4M, DHI-XVR5204AN-4M, DHI-XVR5108HS-4KL, DHI-XVR5108H-4KL, DHI-XVR5208AN-4KL, DHI-XVR5116H-4KL & DHI-XVR5216AN-4KL

D-Link
DCS-6511B & DCS-7513B
Eneo
IPB-72A0010M0A, IPB-62M2812M0A, IPB-73M2812M0A, IPB-72A0003M0A, IPB-75M3610M0A, IPD-72A0003M0A, IPD-73M2812M0A, IPD-62M2812M0A, IPD-75M3612M0A, IPC-52A0003M0A, IPC-52A0030P0A, IPC-55C0000M0A, IPP-62A0012M0A, IPP-72A0030M0A, IPP-82A0030MIA, IPP-82A0030MHA, IPC-73A0030P0A, IPD-62M2812P0A, IPD-73M2812MWA & IPB-73M2812MWA
GSG International
KLIS IP MD-3M-IR-IK10 & KLIS IP MD-3M-IR-IN
Hanwha Techwin
SNB-9000, XND-6085, XND-6085V, XNV-6085, XNP-6120H, XNO-6120R, XNV-6120R, XNV-6120, XNV-6011, XND-6011F, XND-8020F, XNB-6005, XNO-6085R, XNP-6040H, XNB-6001, XNF-8010R, XNF-8010RV, XNF-8010RVM & SRD-1684

Panasonic
WV-S6131 & WV-S6111

Vivotek

FD8177-HT, FD8377-HTV, FD8377-EHTV, IB8377-HT & IB8377-EHT