R1 2018: What's in it for you?
Tuesday, 16 January 2018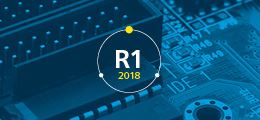 Author: Toyah Hunting
Product News
As a distributor, you probably have a lot of vendors on your mind at any given time. Perhaps you don't actively sell solutions yourself, but you facilitate that others can.
At Milestone, we aim to be the most innovative VMS vendor around, delivering new value to the market three times a year. We are constantly refining and improving our products so that you as a distributor can be certain that the Milestone solutions you convey are reliable, scalable and future-proof for the customer, and that they bring recurrent revenue to you.
XProtect 2018 R1 provides clear value for all our existing installations covered by a Milestone Care™ Program subscription, giving customers immediate, free access to the latest updates.
Here's a breakdown of the key features you should be talking about with your customers:
Hardware accelerated video decoding on the Smart Client
Get more out of an installation while making resources available for other tasks
By harnessing the power of multiple NVIDIA graphic cards with XProtect, we make it possible to shift the load from the CPU to the GPU, resulting in the ability to display more high-resolution cameras on the Smart Client as well as use more HD screens for display or as part of the Smart Wall function.
From a competitive perspective, Milestone is the only vendor in the market that offers hardware acceleration using multiple NVIDIA cards.
This is great news for XProtect users. It pushes the boundaries of video management and is proof that Milestone is a constant performance and quality frontrunner.
Increase the ability to sell the latest cameras and screens in the highest possible resolution, to be used at existing workstations. This increases efficiency.
Privacy masking
Protect privacy without compromising security – at no extra cost
Privacy masking is a feature that protects personal privacy by concealing parts of an image from view with a masked area. It ensures that data remains intact, but without sensitive, identifying information that shouldn't be used or seen by other parties.
This great feature is vital in many countries, as privacy regulations differ widely from region to region.
As this feature is built into the VMS, privacy masking is accessible and cheap. No add-ons or extra costs are required to mask frames.
DLNA (Digital Living Network Alliance) support II
Display video captured from cameras without a computer or Smart Client
This is particularly valuable for retail installations that need to display video from a certain area in an easy, simple and affordable manner, with minimum equipment required. When customers become aware of the use of video, it serves as an excellent crime deterrent.
Legacy Device Pack
Faster and more efficient drivers download for commonly used cameras
XProtect supports the largest number of cameras and devices in the industry; over 7,000. To avoid large and download-heavy device packs, we will now split them into a Main device pack with drivers for the most commonly used devices and a Legacy device pack with drivers for cameras that are older and less used. This is another step forward towards a faster download and a great user experience.
What your organization needs to know
eLearn now Explore the XProtect 2018 R1 Update Features to better understand the benefits.
Promote the opportunity to sell more Milestone Care