Offer your customers round-the-clock support
Saturday, 31 December 2016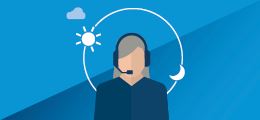 Author: Kimberly Sallingboe
Product News
Security forms an important part of an organization's business. Customers invest a great deal in their surveillance system, and they need to know they are getting the most out of their investment.
Milestone Care™ can be a great way for you to help your customers get the most out of their Milestone investment. Whether it's a matter of keeping their software up-to-date with the latest functionality, ensuring they get the full trade-in value for their software when they're ready to upgrade or giving them access to 24/7 support and incident handling, there's a Milestone Care product that meets their needs.
Plus or Premium?
So, should you pitch Milestone Care Plus or Milestone Care Premium to your customers? Here's some tips that should help you decide which support product to go with.
With Milestone Care Plus
You get
Access to Customer Dashboard, our online system monitoring service. This tool helps you proactively manage your customers' installations, and address potential issues before they disrupt your customer's business.
Your customers get
Free access to software updates. This goes a long way in helping you future-proof your customer's installation. With Milestone Care Plus, your XProtect® Corporate customers would have gotten access to several new features over the past year alone, including hardware accelerated decoding, Scalable Video Quality Recording™ and Smart Maps. And now that we have 3 product updates a year, there's never been a better time for your customers to get Milestone Care Plus.
A 100% trade-in credit. So, if you know your customer will be looking to upgrade their system, say from XProtect® Enterprise to XProtect® Professional or Expert, then Milestone Care Plus is a good way to help them get the full return on their investment.
With Milestone Care Premium
You get
The opportunity to extend your reach and become a truly global player. With Milestone Care Premium, no customer is too big or too international for you to handle. Wherever their offices are, you can offer them the support they need.
To put our expertise to work for you. With Milestone Care Premium, our support team can work side-by-side with your staff to provide your customers with round-the-clock support.
To make the best use of your resources. Staffing up to provide 24/7 technical support is a significant investment. With Care Premium, you can provide this service using our technical support staff, enabling you to create a more cost-efficient set-up for your own organization.
Your customers get
24/7 support coverage. Care Premium is an excellent option for international organizations, as it ensures all offices with Milestone installed get access to the same level of support, 24 hours a day, 7 days a week.
Priority handling of critical and urgent incidents.
Full access to Milestone experts who can evaluate their issues and determine the appropriate level of response.
Give your customers the Care they need:
Download the Milestone Care brochure
Find out which of your customers could benefit from Milestone Care:
See an overview of your installations here
Find more information about Milestone Care in the Price List