Canon Marketing Japan and Milestone sign Memorandum of Understanding to further collaboration
Monday, 4 December 2017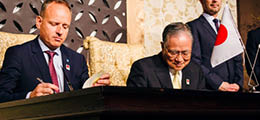 Author: Toyah Hunting
Partner News
In October, a Danish Business Delegation visited Japan to celebrate 150 years of Japanese and Danish diplomatic relations. Milestone CEO Lars Thinggaard took part in this visit, together with 54 other Danish companies, three Danish ministers and the Danish Crown Prince Couple.
Japan: Significant growth potential
Japan is the world's third largest economy and an important export market for Denmark. Milestone established its business in Japan in 2016 but the first Milestone distributor signed up all the way back in 2006. Today, Milestone has several large OEM customers, four distributors and 80 active resellers in Japan.
The MoU signed by Canon Marketing Japan and Milestone is an important framework for discussions on how to further the collaboration between partners and ensure that the parties work closely together in the future.
"We have high expectations for the Japanese market, and being a stand-alone company in the Canon group, I'm convinced that we have seen only the tip of the iceberg for this market, considering the increasing need within a range of industries for innovative technology," Lars Thinggaard says.
Milestone is currently the no. 1 video management software provider in the world as well as in the APAC region. Milestone established an APAC HQ in 2016.
Sign up for the MIPS APAC 2018 on January 23-26, 2018:This community event will feature exciting trends that define the future of intelligence.
Check out how Milestone Solutions provide safety and quality control for the Electricity Generating Authority of Thailand