XProtect® Essential – the best VMS in the market – for free
Sunday, 4 September 2016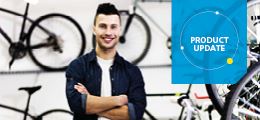 Author: Kimberly Sallingboe
Product News
For years, XProtect® Go has been our free VMS product, providing thousands of users with basic VMS functionality at no cost. Now it's time for an exciting change. Starting October 10, we are discontinuing XProtect Go, and making XProtect Essential our free VMS product.
How free Essential is a game-changer
Users get:
A fully functional, feature-rich VMS at no cost, with no strings attached
Unlimited video retention time
A scalable solution that is easy to expand with yearly subscription packs
An easy, transparent way of scaling their system with an annual fixed cost that makes budgeting for expansion straightforward
Anytime, anywhere access to their system with our three viewing clients, including the best Mobile app in the industry
Why are we doing this?
We have the best VMS on the market. By making a fully-functional, feature-rich VMS available for free, we are bringing our award-winning platform to thousands of potential end-customers enabling them to explore the numerous benefits our VMS has to offer, and convincing them over time to become loyal XProtect customers.
This also represents a unique opportunity for you to introduce resellers unfamiliar with Milestone to the value that our VMS brings to end-customers. Once they see how well it works, they'll be convinced to think Milestone every time they are proposing a VMS to their end-customers.
How will it work?
The free version of XProtect Essential will be available as a free download supporting up to 8 cameras. Customers can expand their systems by purchasing the new Essential subscription packs. A subscription pack includes 8 cameras licenses and a 1-year subscription to Milestone Care Plus. A total of 5 subscription packs can be added to one Software license code, resulting in a system supporting up to 48 cameras in total. Customers must renew this subscription every year.
What will happen to existing XProtect Essential customers?
We recognize that we have many loyal XProtect Essential customers, and we want to make sure that they have a system that is continuously updated and able to expand with their business needs. Thus, existing XProtect Essential customers with a valid Milestone Care™ Plus agreement will be able to upgrade to XProtect® Express for free. To help our sales partners migrate existing XProtect Essential customers without Care Plus, we're introducing a limited time campaign where customers can upgrade at a fraction of the price. Read more about the campaign here.
What about new business?
In addition to making XProtect Essential free, we are also reducing the price of XProtect Express by 25%, making it a well-positioned, entry-level Milestone product. Read more about the changes in the Q4 Price List.
Related Downloads:
Essential Product Presentation