New guides highlight business applications of the MIP SDK
Wednesday, 19 October 2016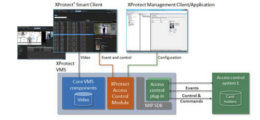 Author: Kimberly Sallingboe
Product News
Do you need a non-technical overview of how you can use the MIP SDK? Do you need buy-in on an integration project? Or maybe you want to provide some inspiration to potential clients? Then look no further than our Integration Decision Guides.
We now have a number of white papers with the intention of showing many of the integration possibilities you can do with the MIP SDK.
The Quick Guide: Integration overview for the MIP SDK provides an overview of these possibilities, and outlines the process of developing a solution using the MIP SDK.
We've also created Integration Decision Guides covering specific topics, such as:
Of course there are many more possibilities with the MIP SDK, many of them documented in the MIP SDK documentation. But these white papers are a good place to start your investigation of a new project.
See the full list of white papers on the Milestone support site