MIP SDK Explained
Sunday, 3 July 2016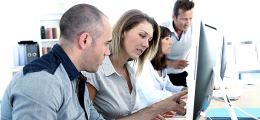 Author: Toyah Hunting
Product News
As someone working with Milestone integrations, you are probably no stranger to the pleasures and practicalities of building solutions based on our true open platform. But can you explain what you are doing and what comes out of it to someone unfamiliar with software development? To a friend or even your grandmother?
Here's an attempt of a basic run through of how an integration takes on a life of its own. Share it with your friends if they ask you over dinner what you do at work all day.
The starting point
Milestone XProtect® Video Management Software (VMS) is the platform for a new software solution. Developers use an API, an application programming interface, to alter the functionality of XProtect, enabling the addition of custom, best-in-class functions to security and business systems. There is no limit to which solutions can be created: video analytics, access control, training, customer service and delivery logistics are but a few of the solutions that can be seamlessly integrated and managed through our VMS interface. All in the name of greater efficiency, improved functionality and business growth.
So how does it work?
The short answer is the Milestone Integration Platform Software Development Kit (MIP SDK). This comprehensive tool makes it possible to create and manage solutions for Milestone VMS. The easy-to-use development toolkit contains application and code samples, proven Milestone library and code components and Microsoft® Visual Studio project templates to help create new integrations. Our developer support includes extensive developer tools and training that ensures integrators have the help they need to get the solution to the market quickly.
So a solution is built – now what?
Integrations developed using the MIP SDK work seamlessly with Milestone products once they have been certified by dedicated Milestone professionals. This means that solutions can be delivered to various market segments and that broad market accessibility is within reach. By joining the Milestone Solution Partner program, integrators gain access to a substantial and voluminous channel network that can distribute their solutions to a large, worldwide customer base. This structured program provides access to joint marketing activities to increase awareness of the solution, and in time also sales.
What kind of solutions are we talking about?
The new TDSi EXgarde Milestone Xprotect Access integration is a recent example of a certified Milestone solution. It controls everything from one door up to thousands, at multiple sites with thousands of users. Ease of integration and expansion are key attributes, providing extensive possibilities to integrate to the latest CCTV, fire, intrusion, building automation and management, active directory and biometric technologies. You can read all about it here
Want to get started?