Developers make the Open Platform Community possible
Sunday, 3 July 2016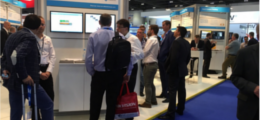 Author: Toyah Hunting
Event News
"Our dedicated software developers are a key component to the Milestone Open Platform Community", says Software Development Kit (SDK) Product Owner Ole Lennert. "Developers are the Open Platform Community's architects and construction workers," he continues. "These people ensure that partners can use our software platform to build solutions that take on lives of their own, adding functionality and business opportunities. They are quite literally in charge of the glue that keeps the community together, and it is time to bring them and their sought-after competences into the light."
Did you meet them at IFSEC?
IFSEC is the biggest security exhibition in Europe. Every year, crowds of competitors, distributors, resellers, integrators, solution partners and end-customers gather in London to get up to speed on the latest development in an industry that is rapidly moving beyond traditional security and into the field of intelligent video analytics that solve challenges beyond the basic keeping people and assets safe.
"Developers stand at the center of this development," Lennert says. "In fact, they are the ones driving it. That is why we established an Integration Lab at IFSEC, where people from all walks of the VMS industry could find software development assistance."
The Integration Lab pod came with the invitation to attendees to 'Build Your Own Solution'. Hosted by Milestone R&D professionals and developers with in-depth knowledge about the SDK, pod events included demos, discussions and Q&As. People wanted to know how to build an integration with video analytics, how to tailor bespoke solutions for demanding projects and see the many sample plugins that are included in the SDK.
Lights, camera - integration
"It truly helps us keep a finger on the pulse, giving us an idea of how the SDK really works out there," Lennert says of the developer presence at IFSEC. "Does it include everything needed to develop an application? Is it easy to access? How can we refine it? Engaging with the community helps us build an ever better SDK product."
That was not the only benefit of having an Integration Lab at IFSEC. "It also functioned as a back up for our sales people," Lennert says. "Our R&D developers could dive into the more technical aspects of customer questions, assisting the sales team in building leads and closing deals."
"The community is the game changer that will drive our development," Milestone Senior Product Manager Mikkel Løcke Winther said in our May Partner newsletter of our transition from an open platform company to an open platform community. He stressed how Milestone prioritizes product development based on key stakeholder insights and shapes the business direction through advice from the community. "Developers, the SDK and Integration Labs such as this one at IFSEC are indeed pivotal to this product development," Lennert concludes.
Join fellow developers and find answers to your SDK questions in the SDK Support Forum