Milestone Intergration Test Lab - saving valuable development time
Thursday, 29 October 2015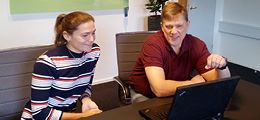 Author: Toni Schaetz
Event News
In December 2015, Milestone launched XProtect® 2016, the newest version of our award-winning VMS. To help our solution partners ensure their integrations were fully compatible with the new release, and to help refine our own product, we invited all of our partners to participate in our beta testing phase. This proved to be productive and efficient for everyone who participated.
Trine Voss, Head of Solution Partner Program explains, "We invited our Solution Partners to set aside a full day to come to Copenhagen. Then for each partner who responded, we set up a beta test lab at our offices in Denmark and Beaverton, complete with technical support, so they could thoroughly test their software or device integrations done via the MIP SDK in a way that made sense for them."
They came, they saw, they conquered
This was the first time we had invited so many of our partners to be part of a beta test lab. But still partners travelled from all over the US and Europe to attend – and it turned out to be decisively beneficial for everyone involved.
"Everyone who attended told us they found it to be an excellent use of their time," says Trine. "As the market increasingly demands integration between systems from multiple vendors, beta testing of integrations is an efficient way of reducing the risk of end users facing incompatibility as new software is released. It's something that needs to be done by all parties anyway. When we do it together, it becomes vastly more efficient as we can work together to discover bugs and solve issues."
Alberto Avanzi, Development Manager of Digital Barriers, agrees. "Our participation in Milestone's beta lab allowed us to discover some limitations of our integration that would have otherwise required weeks to be discovered and fixed. By leveraging their knowledge of their product, we spotted several improvements and optimizations for our integration. The final result was significant time saved in development and testing and above all a greater quality of the final product delivered to the customer."
Open Platform
Including our technology partners in the beta testing phase ensures that we go to market with a version of XProtect that is thoroughly tested, stable and reliable. It's about giving our sales partners peace of mind so that you can go to their customers, knowing that XProtect 2016 will perform in their environments and with their third-party integrations. It's about working together, Solution Partners, Channel Partners and Milestone staff, to achieve the best-performing VMS possible.
Do you want to meet Milestone for a day of sparring, networking and save valuable deveopment time? Make sure you are signed-up for email from Milestone and keep an eye on the invite for the next Integration beta test lab.