Milestone Integration Test Lab
Thursday, 29 October 2015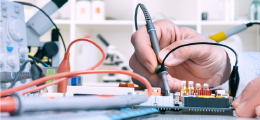 Come and beta test your existing software integration with the new 2016 Milestone XProtect® Video Management Software (VMS) in our Milestone Integration Beta test Lab
Be amongst the first to test your existing integration on the new 2016 Milestone XProtect VMS:
Ensure your integration is fully compatible with the 2016 Milestone XProtect VMS release.
Be ready when the official release is hitting the market late Q4 2015.
Get an early insight in the new capabilities of the 2016 release.
Meet our technical skilled team of Architects and Engineers.
Who & what?
This invitation is meant for Milestone Solution Partners that have developed a software integration to the Milestone XProtect VMS, who are interested in verifying whether their integration is fully compatible with the coming 2016 Milestone XProtect VMS.

Why?
Areas where significant changes have been made in the 2016 release include the video decoding in the XProtect® Smart Client, where plug-ins for the XProtect Smart Client may be impacted, and the XProtect® Access Control Module, which has been significantly reworked and renamed XProtect® Access.

Where and when?
The lab will be available from November 1st until December 15th in the Milestone headquarters in Brøndby, Denmark. Due to the limited time and availability we ask you to apply via email. All requests will be handled on a first come, first serve basis. We are considering organizing a simular test lab in our office in Portland, Oregon Area, US when there is a significant interest for that specific location.

Where can I sign-up?
Apply now by sending an email to partner@milestonesys.com, including your contact details and the name of the solution you want to test. We will contact you to further verify some details.