Video Access from Anywhere
Tuesday, 26 January 2016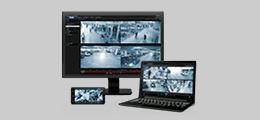 Author: Kimberly Sallingboe
Product News
The rise of mobility has impacted every industry, service and program. Suddenly consumers wanted 24/7 access to their bank accounts, their email and their work programs. And now that trend has come to video surveillance. You can understand the draw: with the increased focus on security, 24/7 surveillance access from any device in any location offers the ultimate peace of mind. Even for high-security installations, remote access enables the split-second responsiveness that many environments require.
How can you offer customers the flexible user experience they demand? By taking advantage of Milestone's unique access proposition: three viewing clients that ensure Milestone users can view their video feed how they want, when they want.
The power of three
The Classic: First there's the XProtect® Smart Client, the powerful, feature-rich client ideal for a surveillance installation's daily operations.
The Light: The XProtect® Web Client offers customers access to the most essential video surveillance functions, through an easy-to-use web interface. It can be accessed from any computer or Internet-enabled device, and works on the majority of operating systems and web browsers. And customers who upgrade to XProtect 2016 get a decidedly improved investigation experience through the web client, with multi-camera playback and efficient video sharing.
The Mobile: Milestone Mobile enables users to view their Milestone surveillance system from their smartphone or tablet. With the addition of push notifications in the XProtect 2016 release, users can now enjoy true peace of mind, knowing that their system will let them know if a situation needs their attention. For patrolling guards, push notifications also ensure they have the information they need to respond quickly to developing situations.
Mobile made easy
We know that some of our partners have shied away from offering Milestone Mobile due to the rather involved set-up process. In another step to make it even easier to offer Milestone products, we've introduced Smart Connect, the easiest mobile set-up process in the industry. Smart Connect also lets you know that everything is working before you hand the installation over to the customer, meaning happier, more satisfied customers who get the mobility they want.
Need more information?
Learn more about Smart Connect and Push Notifications
Watch our freedom of choice video
Take our XProtect 2016 eLearning course